Greetings fellow Gamers!
With this piece of story, we want to show you a new perspective on how the world c'Atheria was created. You may even already understand why it is called "The Symbiosis of c'Atheria".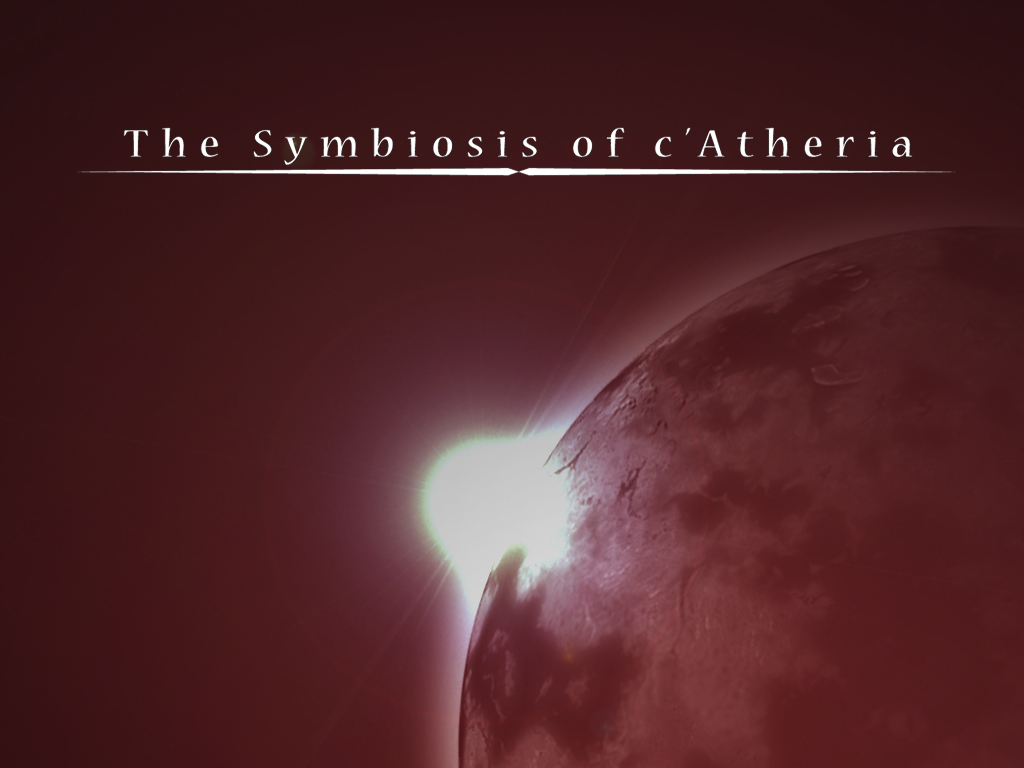 The first psalm of the Genesis of c'Atheria tells the story of the birth of De Juur and O Vyra De, the Creators and known Gods, as the majority of c'Atheria's inhabitants believes:
In the beginning there was Nothing and with it only Change remained. Origins of the Ether, raw and keen, tenacious and fragile, omnipresent and imperceptible. It was when Nothing named itself Eternity, that it sensed the Existence dwelling inside of its source. A ray of light surrounded by darkness. The Eternity despised the part that shone so arrogant inside its domain, for Nothing can't materialize. Existence claimed it's title "O Vyra De", the fulfilling One, and the massive atmosphere its sibling would be known as "De Juur", the Devourer. "I am the creator of your regrets. I will become what you can't, for you haven't been and never will be." De Juur refused to believe O Vyra De's words and thus gave birth to his first kindred. As De Juur spoke Eternity, O Vyra De spoke Time. Solitude broke loose as result of De Juur rejecting Time and his lonesome existence as a being. "This shall be my gift to you, Brother. You want what is yours? Take every sign of form from my shape, but I won't accept a mere anomaly as a sibling of mine." De Juur observed his kin, while it approached O Vyra De. "Solitude. Alone for eternity. Your child won't affect me De Juur. You may have noticed me just recently, but I have always been a part of you. I was at your side all along. While you had nothing, I had you." The sparkling light seemed to evolve and created Fellowship out of Solitude. De Juur began to grow in many ways, while O Vyra De provoked him more out of his domain. There were more children that followed Solitude's birth. Forced to take form and rejecting it, let De Juur's rage unfold. The wish to devour his Brother collapsed with O Vyra De and his creating light. "You don't understand me Brother. You are my antinomy." At that moment the Ether had first contact with its counterpart Materia. These two forces, always merging and repelling each other, creating and devouring matter of existence brought forth the eternal flame of Existence. A beacon of everything and nothing, which would rise and fall beyond the horizon of O Vyra De's Realm. With the creation of his domain, O Vyra De sealed his Brother in the Shadows, therefore c'Atheria was born. Every existence, shape, element and life is a child of O Vyra De, the Materia. The Ether, which made the creation of the Materia possible, is a child of De Juur and like a shadow, the eternal companion of the light.
First psalm of the Genesis of c'Atheria
I hope you enjoyed reading the first psalm and please let us know what you think about it.
Ignite the World!
Lyrahel