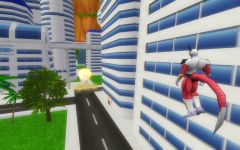 ---
Ever since ESF's early days, the community has continuously suggested that all of the characters should have outlines. Today, your long awaited dream will come true.
---
For the last few months, the team has been hard at work improving ESF's looks and visuals. As an example, we will be showcasing one of the newest shaders: Character Outlines. Character Outlines are just black lines that surround the character to create a cartoonish effect. ESF currently uses two kinds of Character Outline shaders. The first and better looking shader is the Post Processed Outline Shader, which dynamically calculates the outlines based on the neighbor pixels depth the surrounding normals. The second shader is for the older computers that can't support the Post Processed Shader, called Fatboy. The Fatboy Shader is a simple version of the Character Outlines that duplicates the model, scales it up a bit, and colors the duplicated model black. You can reduce or increase the size of the Character Outlines using a simple cvar in console.
---
If you dislike the Character Outline Shader, you can turn it off with a click of a button, or turn it off with a simple cvar in console. Note that this is not cel-shading.