Firstly my new idea is based on dead rising with the psycho cult people and so i based this new enemy on them. He is weaning a maniqquen face mask and they all wear this. They are based on the ones in dead rising with the raincoats and green masks.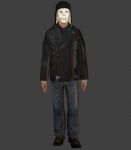 (Ignore the eyes, they need fixing i know)
Secondly is the new weapon the standard spade! With custom animations and sounds its a fun weapon to smack the dead with!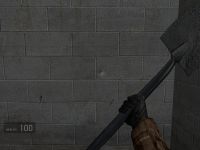 Lastly here is the small Mortewood blurb written by my good friend Kyle. Changes will be made, but this will give you an insight to what its all about :D
--> When the town of Mortewood are chosen to be one of the first places to try out the H.O.P.E cure for cancer, naturally the town was overjoyed. They thought this was a blessing from God. But what happens if this so called 'blessing' becomes a curse? What happens if this cure becomes a disease? And what the hell are you supposed to do when your stranded inside a mall full of Hungry side effects?
Commander Eric Slade will soon find out what happens when gene manipulation goes wrong, and the consequences of playing God. With the help of a massive variety of weapons, plenty of Ammunition, and an old man wielding a shotgun, Slade will fight his way to survival, and escape Mortewood before the town is nuked. Oh and did I mention there will be plenty of blood thirsty zombies, town psychos and the USA Army to deal with as well?
Heterozygous dominate gene to change body genotype
Overproduction of Body cells restricted
Phenotype of the human body transformed
Evolution of the Human body
( HOPE = Name of the virus, beta)
---
Thanks :)
All comments welcome!