I'm afraid I have some not-so-good news this time. The release of July Anarchy Prologue v1.2 and the mod's debut on MODDB.com has regrettably been delayed. The good news, it'll just be another week.
JA:PR 1.2 is now slated for arrival to this website and NWVault.com on July 7th, 2011. The remaining items are few, but after working on practically rebuilding this mod from the ground up since February, I don't want to half-ass it at the end.
And that's basically where most of the work is going right now. Gameplay-wise, the new build is done, with all new gameplay implemented and an ungodly amount of glitches fixed. The biggest thing left on the list is ironing out the alternate ending. After the feedback I got from the original ending following the mod's initial release, it seems an ending with a little more closure is due. The key thing is that this ending is going to be very tough to get, and only the hardest of the hardcore will have the stones to see it, so it better be worth the effort.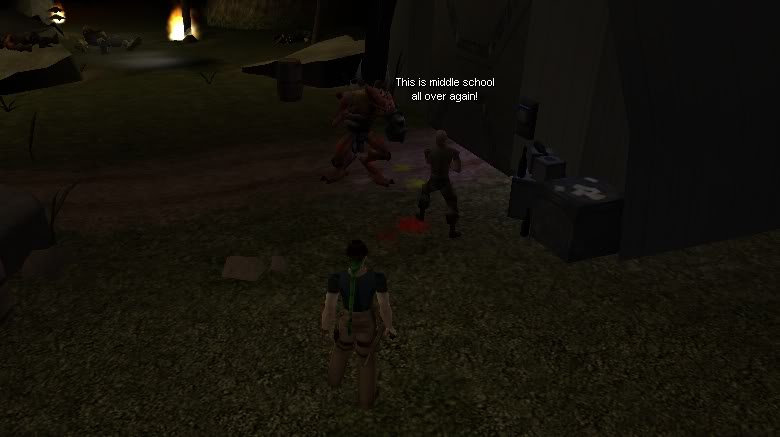 Aside from that, I'm redoing the game's documentation, going from a standard .txt file to a PDF with a more in-depth look at the gameplay. By now, Neverwinter Nights mods have been around so long, and with so many of those mods following the standard rules, that most players don't even glance at the readme and jump into the game expecting to know all there is. That's not the case with this mod, and the documentation needs to make that clear.
I'm sure you've all noticed the scoreboard on the front page of this mod. Since July Anarchy Prologue now tracks your score, kills, and more, it might be fun to see players compete for the greatest score they can achieve. This is experimental now. If it just doesn't work out, I'll take it down. Although if we manage to fill that board with 15 top scores, it's definitely worth trying the system out on other NWN mods.
Stay tuned fellas, and see you in a week!
-JM
"Has the Canadian Air Force responded yet... Well wake him the f*ck up!" - Sgt. Kaye