[page=Drink Your Medicine or You'll Be Sick]
equilibrium: A condition in which all acting influences are canceled by others, resulting in a stable, balanced, or unchanging system. or a Mental or emotional balance; poise.
Life has always been a dark place, but it has had it's beauties. We draw, we listen to music, we read books, and we feel, which makes the world a place to live in. But as Kurt Wimmer's film, "Equilibrium", all signs of life have been erased. The people of the city Libria are all drugged under what is called Prozium which restricts the emotions and feelings. Police forces are all over the place, arresting violaters of the law or dsetroying the arts we humans created.
Like anything else, there is always a resistance. Some of the people of Libria soon learned there were emotions and feelings to feel as they scrapped the doses of prozium they were required to take. These people reached out to a new experience in life opposed to the typical Librians who can be interpreted to represent the "cave people" in Plato's Allegory of the Cave. The resistance is made to reach out, their purpose, like ours, is to live a life.
It was only a matter of time when Cleric John Preston reached out of the cave...
"Cleric John Preston is a top ranking government agent responsible for destroying those who resist the rules. Whe he misses a dose of Prozium, a mind-altering drug that hinders emotion, Preston, who has been trained to enforce the strict laws of the new regime, suddenly becomes the only person capable of overthrowing it." -imdb
[page="You Clean We'll Sweep."]
Equilibrium was an immersive action film directed by Kurt Wimmer and throughout the story a fictional form of martial arts, called Gun Kata was introduced. Gun kata was produced by wielding two firearms (in this case pistols) to shoot the enemy in areas that would definitely hurt someone. The martial artist is trained to know exact enemy movements allowing a very advanced close quarters combat.
Today I managed to sit down with mod leader Rico of Halls of Mirrors. We both know that Equilibrium was a great film but we discuss what he wants to recreate from this film and how he will recreate them in the best way possible.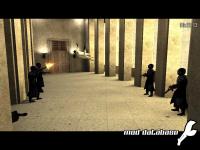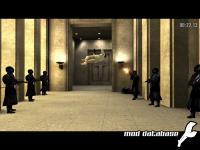 modDB: How is your dosage of Prozium?
Untouched ;)
modDB:What are your feelings on prozium? How do you feel it affects the Libria?
Clearly it's an evil that needs to be eradicated. Feelings are what makes us human.
modDB: So how are you going to recreate the Cleric's actions for Max Payne?
The main focus of our mod is combat. The main thing I was aiming for when I started work on the gun kata system was to make it fun. Every time I make a new animation I ask myself "does it look cool?" "is it stylish enough?" Once I can answer those questions with a "yes," I proceed to put it all ingame and then I make sure that they are both useful and that they fit in with the rest of the moveset I have already created. So to answer your question, we've been trying to use the movie as inspiration instead of trying to make a carbon copy of the action everyone has already seen. My aim is to make a game thats fun to play, not an interactive movie. We do, however, try to remain faithful to the movie in most areas. We couldn't name the mod Hall of Mirrors if we didn't let the player blast his way through that scene in the movie So you can expect at least that much from us ;)
modDB: How exactly will Gun kata work in-game? How complex can this martial arts system be on the technology at hand?
Well my plan has always been to keep evolving the system a few times as I (hopefully) release future versions. Right now I'd dare say we have the most complete set of moves in a Max Payne 2 modification. I won't lie to you; the engine can really hold modders back because of its simplicity. What I've been doing for the past year is working around the limitations in order to make what I believe is a very robust combat system. The gun kata works as follows:
Ingame the player starts out with his standard-issue cleric handguns. Once the player selects the handguns from the inventory he/she will immediately go into Gun Kata mode and have access to all the special moves. Then, by pressing different key combinations they can perform different moves, some of the more effective moves have more complicated key combinations but there's nothing so complicated that its frustrating. It's very easy to use. Once the handguns are unequipped, the player returns to his normal moveset.
"The main focus of our mod is combat."
modDB: What kind of original content can the players expect in terms of gameplay? Have you designed new environments to fit the city of Libria?
In terms of gameplay you can expect new weapons, sounds, models, skins, maps, animations, and a new way to play the game in general. You can even play through the original Max Payne 2 story using the new combat system. As far as the environments are concerned you can expect to see some familiar locations like the Hall of Mirrors and the Training Room. We will also offer new levels that fit into the atmosphere provided by the film but are completely original. The only thing we aren't adding is a storyline, the mod is all about blasting your way through hordes of enemies in the coolest way possible. This is a close as you can get to a Total Conversion without a new story.
modDB: Will we be able to play as characters other than the Cleric? Like Brandt or Partridge?
Ah... Funny you should ask because we've sort of been keeping our mouths shut about this but I think it's time we let some of the information out :) The answer is yes. In addition to fighting Brandt you will also be given the option to use him as a playable character. As of today there are 3 different playable characters: Preston, Brandt and Rico. Each one of them has their own individual moveset and some signature moves that are unique to them alone. It may seem odd that I included myself in there but the truth is that as a little "extra" of sorts we wanted to include some of our likenesses in the game and have them be playable characters. There may be others... depending on how things go this month.
modDB: What can we expect from the first public release? Is there a release date that players can expect?
Well the mod has only been in development for a year. A lot of people forget that we don't do get any money from this and that we have to take time away from our lives to work on the mod. We have an internal deadline set which we aim to meet but we aren't ready to share it with the public. When we give a release date everything will be done, mirrors will be ready, announcements will be made, the whole thing. That's when I'll be spending most of my time doing PR and getting the information out there to as many people as possible.
A: In the first release you can expect a handful of new maps (4 or 5) new models, new particles and effects, the first version of the combat system, a new gamemode, new skins, weapons. Basically you can expect to be blown away this year, sometimes literally :)
"we wanted to include some of our likenesses in the game"
modDB: Modders have all had some kind of fantasy to create their favorite movies into mods. Sometimes they are successful, and other times they are not. Have you had limit or change anything in hopes of not getting "foxed out?"
Actually no we haven't. We have been warmly supported by the entire Equilibrium fanbase and we have had no "cease and desist" letters or requests from Kurt Wimmer (the director) or anyone else. In addition to that ever since I took control of the project I have tried to make sure that the mod can stand on it's own if this sort of thing were to happen. I really doubt we'd ever get "foxed out" because if anything I think we're creating an even larger fanbase for the movie, people have seen screenshots or heard about the mod and have then gone out to rent the movie to see what the mod is about. But... should we ever get a letter... let's just say that I've been making sure that all the work I do on the mod is releasable on it's own :)
modDB: What are your feelings on the big movie industry foxing out some of these small user-created modifications?
To tell the truth I really don't feel like the modders are "victims". I am fully aware of the fact that our project could be shut down at any time because we do not own the intellectual rights to Equilibrium. While I have seen some great modifications be shut down by big movie companies I really feel no pity for them. It is a risk they should have taken into consideration and it should be dealt with from the very beginning. You should either come up with a back-up plan in case you get a letter (like I've made sure to do) or you should make sure you have permission from the authorities from the very beginning. I know for a fact that there are many modifications out there that have support from the IP owners. I respect Kurt Wimmer's intellectual property and if he ever asked us to stop the development of our EQ-themed modification we'd probably comply. However, that doesn't mean our work will be lost... it'll just change names and get some "cosmetic `surgery" as I like to call it. It'll look different on the outside but on the inside it'll still be the same beast.
modDB: If you could, what would you change from the film?
Well personally I don't consider myself the biggest Equilibrium fan in the world. I think it's a good movie but what really enticed me was the gunplay. Don't get me wrong though, I may not be a "fanboy" but I'm making sure we stick to the movie because I think it's important for all the fans out there. I wouldn't say anything needs to be changed about the film and I certainly think the action was stellar.
"I really feel no pity for them."
modDB: What kind of games are you playing today? What would you like to see in the future of games/mods?
Heh it's a bit strange really. I'm actually playing a lot of Hall of Mirrors on my spare time, I really enjoy it even after having to play it on an almost daily basis to test changes and additions. I also work on other mods besides HoM so I play those. As far as retail games I play Guild Wars every once in a while, I'm a big Half-Life fan so I play HL and HL2. I'm waiting for some good mods to come out for HL2, I haven't played that in a while. What I'd really like to see in the future in games and mods is lots of action, lots of cool moves and style. Games like Devil May Cry, Ninja Gaiden and God of War are similar to what I'd like to see. But really... what I want to see is developers paying more attention to gameplay rather than graphics. Eye candy is nice but after the first few hours of oogling at the environments the player stops noticing the graphics and all that's left of your game is the gameplay.
modDB: Do you have anything to say to the newcomers of Libria?
I just hope they have as much fun playing the mod as we had creating it, minus all the management and developmental nightmares!
modDB: Thank you for sitting down with me for this hour and 45 minutes, it's been a pleasure speaking with you, and I, like many am looking forward to the release of your mod. I will also be looking forward to playing as Rico himself.
Heh no problem, it's been a pleasure.
[page=Freedom]
Halls of Mirrors has really been coming out of it's shell quickly, and now they have been showing very impressive promising work. These screenshows below are from one of the maps we will see in the future public release.