What am I working on? don't ask because not even I know for sure...
Lately I've focused more on design instead of modeling for games. This does give me a certain freedom, I don't have to worry much about poly-counts and stuff like that. It also put's some more pressure on how things look and their possible functionality in real life (if that's what you are making anyway).
You might have seen my drill-project already but here are some images: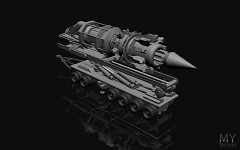 Transportation mode
It's not really the most realistic model I hoped to make but it has a certain cold and destructive charm.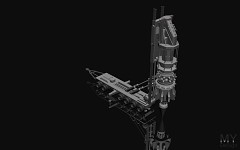 Drilling mode
It's finished now. Hopefully I'll make more things of this size in the future but for now I'll go back to learning my 3d program better.