Jumping right in...

For the past week or so (ever since INtense! started revealing the ModDB updates) I've been keeping a close eye on what has happened around ModDB that hasn't been mentioned. Besides what INtense! has talked about, there have been some neato things that really benefit the site and make it a tad cleaner (all in my opinion). First of all is the idea of karma. We all know that when we hit that little plus button, a green bar appears at the top of the comment area to let you know you've given karma. That bar also appears when clearing updates, deleting things, and tracking groups/members/games/mods. In addition to this, I believe the sign-in with either Twitter, Facebook, Google, or Steam is pure genius and I've been using since they implemented it. Love it!

Now I had no problem with the way it was set up, but I definitely liked Desura's version better (if you have Desura you know what I'm talking about). Lo and behold, the fantastic people at ModDB made that one happen. Here are some screenies to show you what I'm talking about.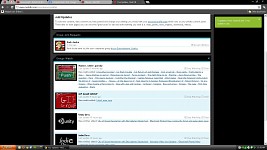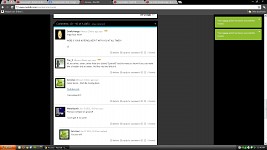 Now, I personally think it's an improvement and love it to pieces. You've probably noticed this next one. Another update that came through was the Twitter feed on any page on ModDB (member/mod/game). This, seems to be a fantastic feature and I hope to see more games/mods using it (and members)! In fact, I might end up getting a Twitter just to see what it looks like.

Something else I've wanted to talk about is music. Summer is usually the time for all of the great club bangers, so I'll do my best to blog about those if you want some good tunes to listen to. Speaking of which, here's a fantastic song by Calvin Harris (being released in the UK first, then the USA), called "We'll Be Coming Back". It's a fantastic song (I think I said that already) and it even earned Headhunter's stamp of approval. Also, I'd love to share all of the music sites I frequent in order to find the latest and greatest, but it's fairly long so I'll save it for next time.

Story time! I actually had a story I wanted share, one which I wrote for school this past year (only about 500 words long), but I thoroughly enjoyed the assignment because I love writing and because the goal was to have a twist at the end. I think I nailed it, but I'll post it up sometime for you guys to judge (got to find it first!). Also, I was able to start writing "I Am Seven" again, which made me incredibly happy. A part three should be coming soon, along with a new blog layout like this one!
Thanks for reading guys! - Arcones