Or nearly nobody. There were 10 persons registered for the alpha, 2 of them told me they had no time during the two weeks the alpha took place, and only 1 person gave me some feedback (thank you).
Well... I still need feedback so what do I do ?
First, the alpha build is now available to anyone, you don't have to register or anything. Just go to my web site and download it.
Next you can give feedback while in the game. Just go to the main menu and press the "Tell me what you think of the game" button. It will display a text area where you can write anything you want to tell me. Then press "Send" and that's it. There is also a "Screenshot + comment" button : it will take a screenshot of where you are in the game, overlay the text you input in the text area and some additional infos (see the screenshot below). You can then save it to your hard drive or send it to me. No personal informations are sent. Here is an example of what I will receive.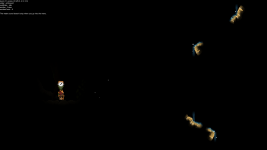 So if you have any interest in the game, give it a try and tell me what you like and more importantly what you don't like. Oh, and here are some screenshots of the new tileset.
You can follow @SouvenirsGame on twitter, vote on Greenlight or visit sisyphe.be.