Hello everyone!
With a bit of delay we release Beta 2 - 0.54a. Since my Connection is too slow to properly handle the upload on indieDB, just have a dropbox depositfiles link instead:
Download Link:
Depositfiles.com
UPDATE:
Depositfiles.com
[PATCH 0.54c, just replace files]
Fixes:
- Minor system changes
- Fixed borked jumping
- login window works to 50%
- minor weapon texture change
- UI Color autochange in short range nebula sectors (see SOL)
- New health/shield bars for you and the enemy!
UPDATE:
Depositfiles.com
[PATCH 0.54c-UI, just replace files]
Fixes:
- login window works to 100%
- New health/shield bars for the enemy
- GUI Masking now set to 255/0/255 instead of mixing everywhere
On another note, we want to start a contest! The demo file contains a packed UI preset. Design one, upload it somewhere, send us the link and win the last remaining Sirius Online Funding Edition!
Terms:
- Your Design is unique and doesn't contain any copyrighted material
- You agree the the design gets published in the Sirius Online main release with a credit entry
On a third note:
We've talked in team about stuff that may sound evul at the beginning, but may even make sense in how we do it. We are, of course speaking of DLC.
Not as most of you know it as game content you have to pay extra, but in supporting other Indie Artists. Music Producers can apply to us to get their Music into a Jukebox in Station shop. You as players can buy the music conveniently and have your own special sound in your player appartement!We've primarily thought about a 25:75 distribution, where 75% of the DLC price goes to the artist, while we keep the other to maintain servers. What do you think about it? Worth a try or utter crap?
Introducing: The Dragunov-1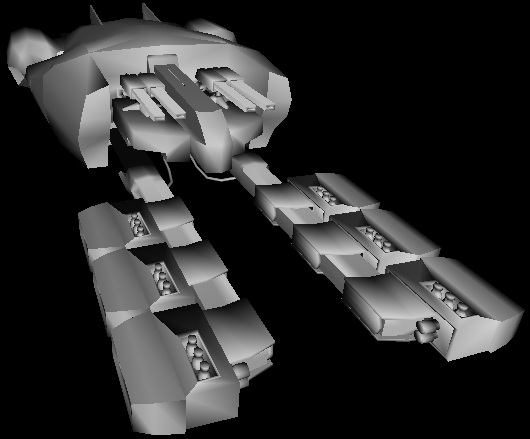 The Dragunov-1 is one of the workhorses of the recolonization after the last war. Its reliableness and decent cargo bay have established this cheap craft as the the main ship for harvesting resources.
Stats:
Speed: 120m/s
Shields: 160U
Armor: 300U
Cargo Bay: 200m³
Weapons:
- Class 1 Laser (EM) OR Class 1 Mining Railgun
Upgrade Hardpoints: 2
Calibration Points: 3
Greetings from the D3XGames.com-Team! See you in our IRC Chat on IRC.ESPER.NET, room #SIRIUSCHAT