Hello again, I hope those of you who downloaded the game have had a fun time with it! Since the release I have been working steadily on squashing the existing bugs (that I am aware of) and adding more content and depth, since v0.1a was rather shallow... v0.2a promises to have a bit more fun stuff to do!
Among a few other things, the following is primarily what will be included in the next build of the game:
New Units! The player will be able to recruit twice as many units as before! With a few extra enemy units to fight against thrown in for good measure. These units will include the 'Hoggva', turtles wielding metal axes. Armored Grunts sporting stylish chainmail, great for holding the line. Hunters, equipped with bows that can strike the entire enemy Support ensuring that no Owl is safe on the battlefield. And last but not least, Herbalists, the game's first real 'Healer', this unit periodically heals the entire frontline during battle.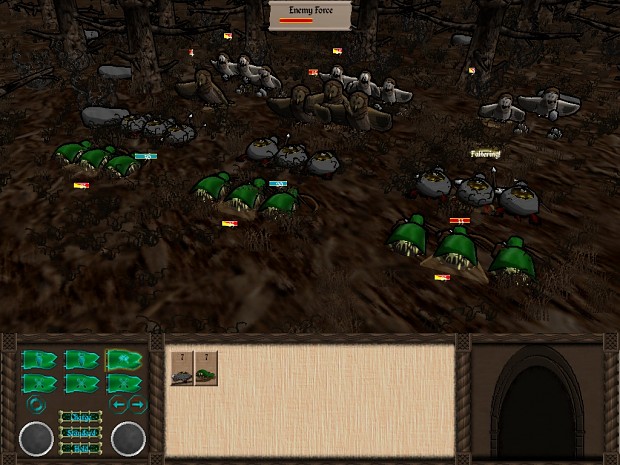 New Buildings! Naturally all the new units require bigger and more expensive buildings in order to recruit, and on top of them there are still more! The Metalsmiths Forge will make all the axes and chainmail required for your new line troops, the Archery Range will allow your Hunters to train without hurting too many passersby (well, let's face it, some of them had it coming anyway...) And the Alchemy Lab lets Herbalists try out their latest potions on...whatever happens to be on hand...(usually peasants), not only that, the Alchemy Lab allows you to forage for seeds allowing you to grow new crops that will aid your troops in battle. And if all that wasn't enough, the Library is joining the roster of structures you can build, bringing with it a budding Technology Tree, filled with all sorts 'Tomes' that teach new ways to build a better settlement or train a tougher army! And lastly, the wild and mysterious Uspakr clans will use their skills of stealth and cunning to bring you resources from the darkness of enemy territories in exchange for food if you build them an 'Uspakr Encampment' to allow their representatives to alight with their goods for the night, each day different resources are available for trade, so you never know what you might find!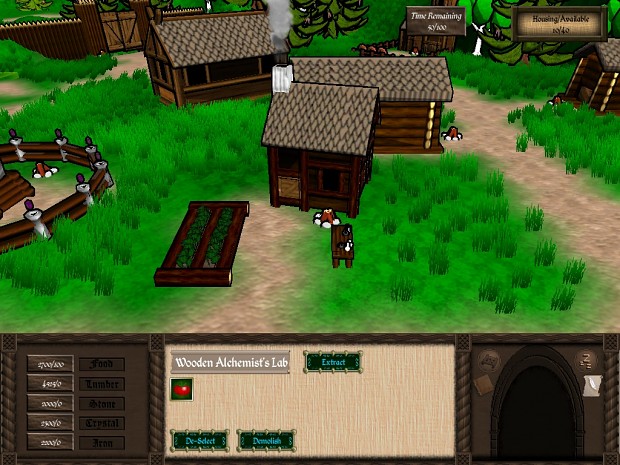 New Agricultural System! The (pathetic, boring, shallow, uninspired, & ugly) agricultural system that was in 0.1a is no more, in the coming update will now have 'Seeds' & 'Crops' as finite resources, harvested crops will have to be sacrificed to 'Extract Seeds' from them to facilitate the planting of more crops (with the exception of Cucumbers, your settlement has unlimited cucumber seeds... ). Once seeds have been sown a number of days will have to pass before the crop reaches maturity, (like a certain favorite game I'm sure we all are familiar with...) mature crops will either confer passive benefits or must be harvested and stored for 'one time uses', depending on the plants characteristics. I intend on adding a wide variety of such agricultural goodness in the future builds.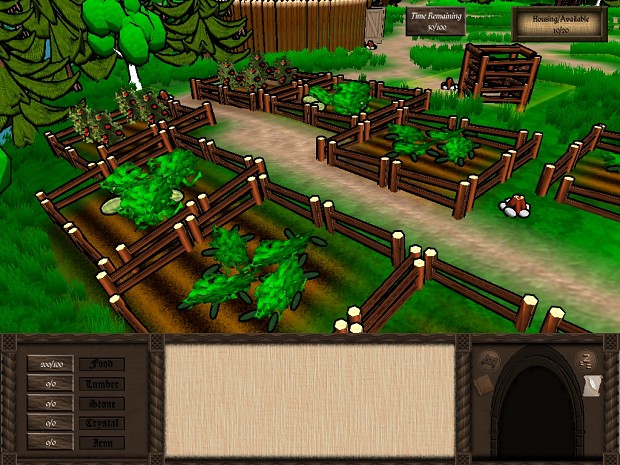 Dynamic Battles! In the coming update, battle positions will be a bit less 'static' and much less predictable, positions have a chance of gaining the 'Faltering' status when a unit is killed in combat (based on certain factors), Faltering positions cannot be deployed to or swapped, and should the Support unit get killed while the Frontline is Faltering (or vice versa) both positions will become 'Broken' and the battlelines will change their shape! Both of these statuses will wear off after a few rounds allowing the positions to return to normal, but their absence, even for a few rounds, will make fights much more interesting. I also have plans (for future builds) to add units, spells, and Heroes that make Faltering/Broken statuses more or less frequent, allowing (and in some cases, requiring) actual strategies to be built around such maneuvers.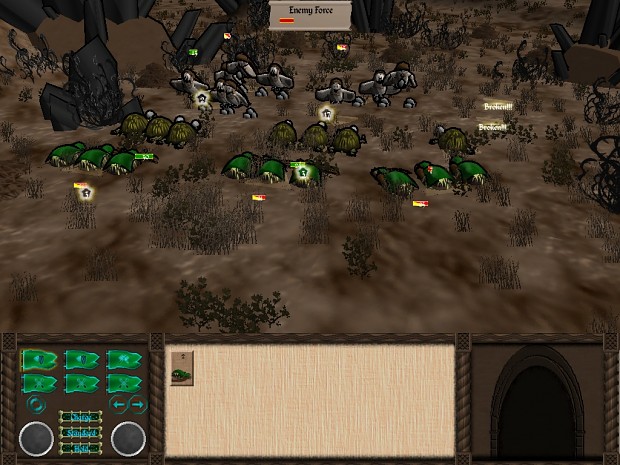 All this and more! ...Just as soon as I can get it all done, which should (should I say) be within the next few weeks to a month.
Once again thanks for reading, take care and I look forward to your feedback,
~KingHeftig