What is Scaffold 22?
In simplest terms, Scaffold 22 is a web-based interactive story set the distant future. It's also a place in the game world that you, as the player, will explore. Last but not least, it's an attempt to merge my two favorite hobbies, writing and game design, into one project.
Codex Entry:
Scaffold 22 is an enormous artificial construct in the north-western hemisphere of the galactic core. Given its name by the of millions upon millions of compartments, docking berths and pressurized passages linked together by a complex scaffold of support struts, Scaffold 22 houses over forty billion inhabitants, making it the largest space platform in the region.
---
The World

Set twenty thousand years in the future, Scaffold 22 takes place on a huge space station of the same name. Hopelessly overpopulated, poorly regulated, and home to as many street gangs and crooks as there are corners to hide in, Scaffold 22 is a rough place at the best of times.
Inhabitants of the lower levels struggle to survive an existence dictated by profit-obsessed corporations, ruthless crime syndicates, and indifferent private security contractors. Far above, the rich and prosperous are locked in a perpetual political struggle between the Church of Eden and the Corporate Hegemony.
Unfortunately, corporate warfare, political intrigue, corruption, and bloody gang wars are only the tip of the iceberg. The unused storerooms and gloomy walkways of Scaffold 22 have become home to darker threats: a treacherous Witches Coven that perverts the noble art of science to achieve their insidious ends and the ever-present plague of abominations; hideous affronts to the natural order that deserve nothing less than a swift execution.
---
The Game
Playing as Vineo "Vine" Acrel, you're plunged into the world of Scaffold 22 on a quest absolve the sins you committed as a mercenary lieutenant. To this end, you've started working for the Church of Eden, first as a mere abomination hunter, and now to locate an ancient artifact which was stolen from a secure vault.
Most of your interaction with the world is text based, the exception being interfaces like the combat screen and the PDA, which contains a wealth of back story and additional information (journal, personal messages, character sheet, etc.)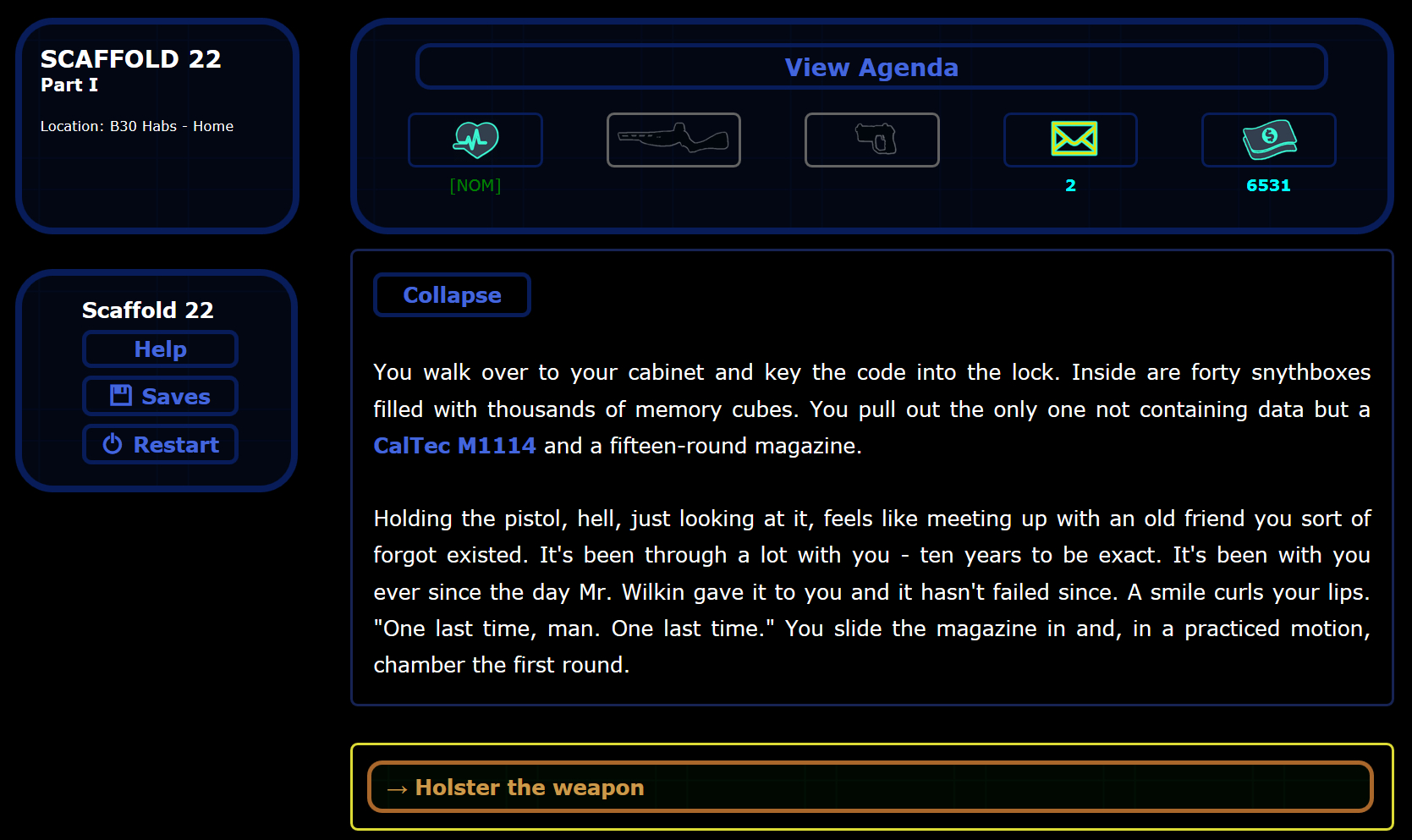 Dropping by your apartment to pick up your sidearm...
In addition to a simple combat system and a few puzzles, you're offered a wealth of dialogue options and recreational activities to while away the time you're not hunting abominations or unraveling treacherous conspiracies.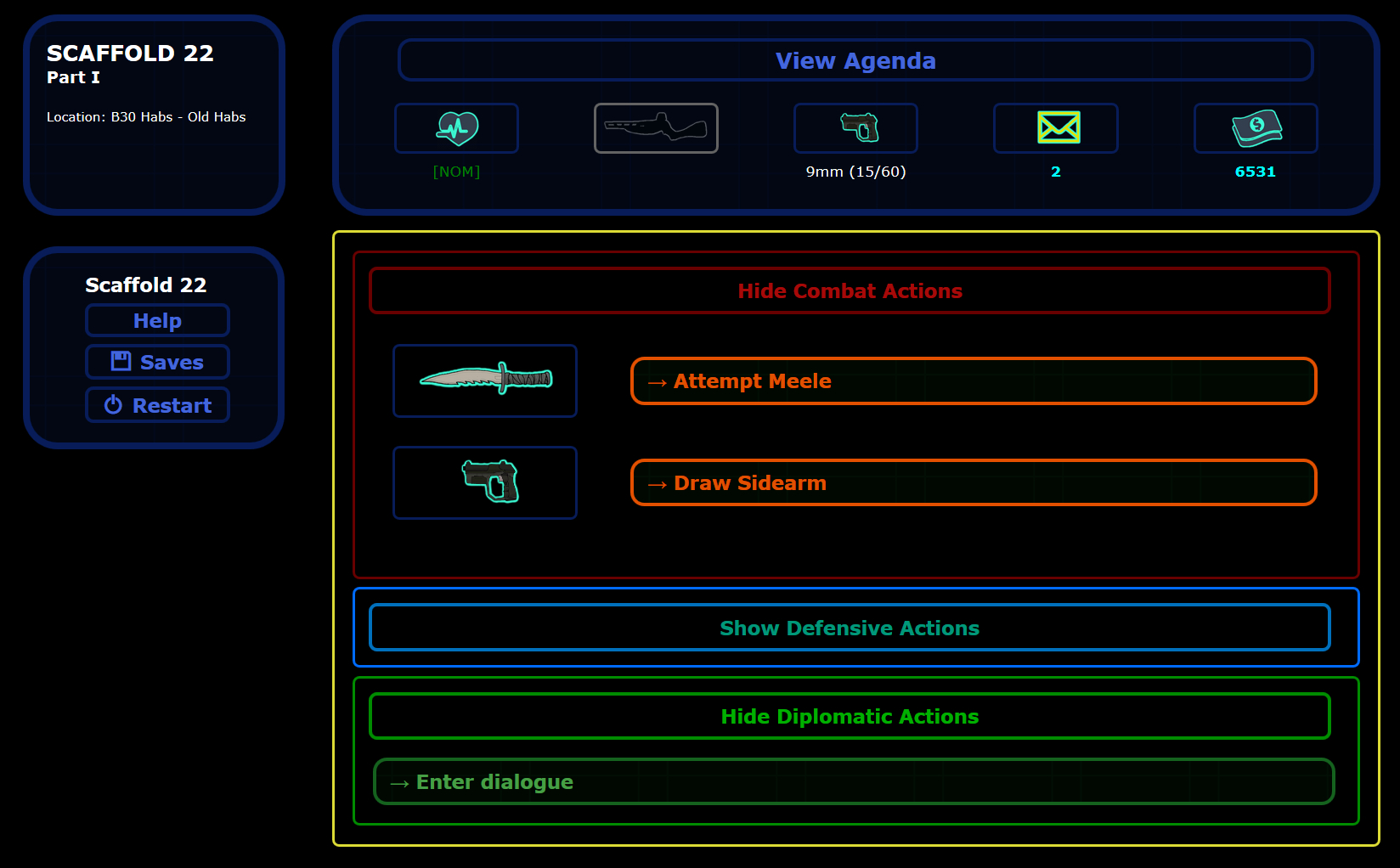 Combat Interface
To be fair though, it's hard to explain a text-based experience in screenshots - or words, ironically. If you're interested, why not just give it a try? Part I is online in beta form and free to play. It will run on any modern browser, including mobile devices (though only in horizontal mode; vertical display still needs some work).
---
The Project
Originally, Scaffold 22 was intended to be a novel. Then it evolved into what was supposed to be a standalone interactive story. It's since grown to include visual elements and has become an ongoing project to expand and flesh out the world and improve the gameplay experience as part of an episodic story.
The idea is to use Part I as an introduction and slowly but steadily up the number of branches in the storyline in future installments. Exactly how well this will perform in practice I can't say but I'm really looking forward to creating a complex, vibrant world and a gameplay experience centered around compelling plot that evolves based on ingame choices. Put a different way, it's a writer's wet dream - and a scripter's nightmare, so everyone's happy.

Artwork - the writer and scripter's bane
That all said, it bears to remember that Scaffold 22 is currently in its early beta phase. The game is playable sure, but there's room for improvement. And, yeah, there will be bugs and errors, so any feedback and reports would be much appreciated.