I might be a little late to the party, but the December Update is here! Obviously the holidays have been getting in the way of Survival Island updates, but I'll be back to working on it semi-regularly this weekend.
Let's start with some fun development news: First, thanks for all the feedback concerning new Achievements for P:SI! I've filled up the list of 28 Achievements, but that doesn't mean you should stop sending in your ideas!
Second, there's (yet another) new update for Pokémon Essentials, and while I'm not planning on implementing any of the new features in it (sorry Black & White fans!), it has a lot of bug fixes to issues which I encounter on an annoyingly regular basis (i.e. game crashes every time you exit the Nest maps screen). So I'm going to have to update it.
Which brings me to my next question: Now that the Gen 5 B&W Pokémon are supported, should I implement ALL 649 Pokémon, instead of just the 386 from Gen 1-3?

This month's update has 2 feature spotlights, which were lightly touched on in last month's video: Happiness and DEATH.
Happiness
The Pokémon on the island are wild and feral. When you catch them, they won't always obey you at first. As they get used to you, they will become happier and more obedient. You can tell how obedient a Pokémon in your party is by going to the Happiness Tab (which replaces the Ribbons Tab).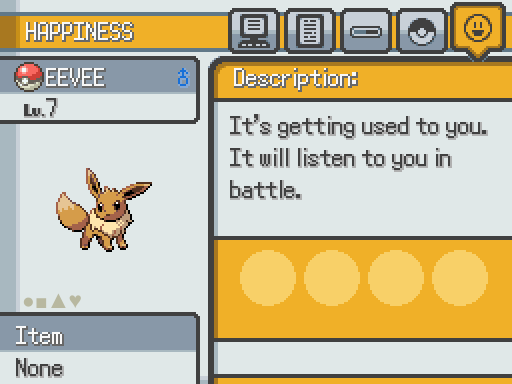 The way this works is pretty much the same as the existing Happiness mechanics in the base game. When you catch a wild Pokémon, most of them start with a base Happiness of 70. In order to be fully obedient, their Happiness needs to be over 75. Happiness is gained through walking, leveling up, and using certain items on them. Happiness is lost when they faint, and using certain other items on them.
Speaking of fainting...
Death
You might think that I'm talking about the death of Pokémon in your party, but I already have that implemented through Nuzlocke Mode. No, I'm talking about a critical existence failure of the player character.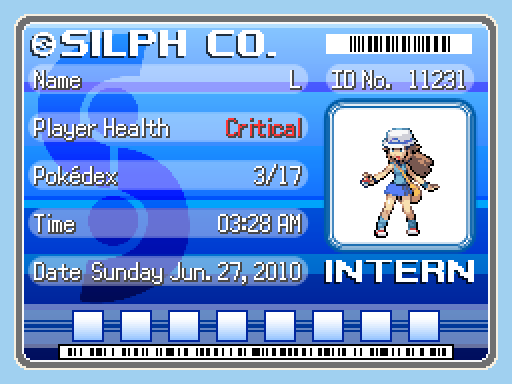 When you lose a Pokémon battle, and sometimes when you run from a wild Pokémon that is much stronger than you, your player character gets injured. You can now view the current status of your health on the Trainer Card. Statuses are "Healthy", "Injured", "Wounded", and "Critical".
If you lose a battle when your health is Critical, then you die. It looks like this: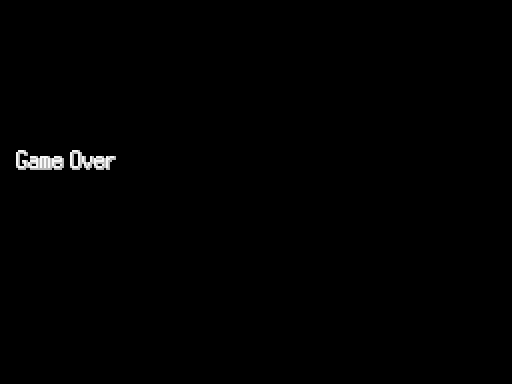 Yeah. It's that bad. You're brought back to the main menu afterwards, and have to start the game from your last save point. Remember, if you're on Hard Difficulty, you don't have the option to save any time you want, and instead the game is saved every time you sleep on a Bed.
Alrighty, that's it for this month's update, and all the updates you'll get from 2012. Make sure to follow this page and my Twitter for future updates!
Happy New Year, everyone!