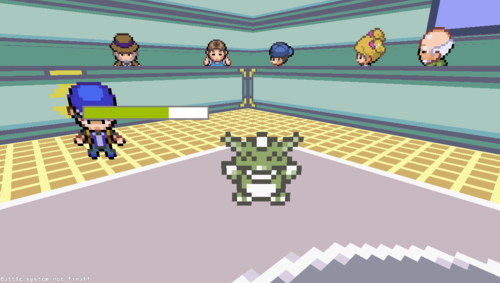 Pokémon3D version 0.45.1 is here and contains mostly bug fixes and most of all: the support for the custom sprites.
Here's a list of changes:
For Players:
Added Online Sprite system for GameJolt players
Updated the File Validation system
Added statistics screen
Updated the PVP battle map
Added the Substitute sprite for battles
Fixes:
Multiple PVP crashes and bugs
Fixed File Validation interpreting the char "/" wrong.
Fixed Eggs can be leveled up
Fixed not blacking out in wild battles
Fixed Phantump evolving into Alakazam
Fixed multiple tpyos
Fixed the Sound and Musicmanagers to crash when trying to load an invalid file.
Content Creators:
Added new command: @level.waitforsave
I hope you enjoy the changes done to the game. If you experience any crashes or bugs, please report them here: Pokemon3d.net
I will have to study for the Abitur (finals in Germany) and that's why I won't be so active for the next 3 months or so. Darkfire and Prince Vade will still continue to deliver updates and changes to the game, though.
//The Pokémon3D Team