It's Saturday night and you're... In the Lab!
What's going on this week with the Oswald team? Let's take a look into the progress we've made since last Saturday.
It's audio time! Don't confuse this for Music Monday though, we're adding effects and sound triggers to Oswald. Using our custom audio manager, importing sounds is so easy, a trained monkey can do it. With a extensive array of sound effects, and places to put them Oswald is now fun for your ears as much as your eyes now. The only drawback? Someone has to not only take the time to put them in, but has to listen to simple one shots over and over. Luckily Matt has an apparent immunity to repetitive annoying noises. Let's hope it lasts.
Is that a comet coming out of the back of Oswald? Nope, it's a trail renderer. We've add this simple effect to Oswald during his swing state in order to add more player feedback. This simple and subtle particle effect shows Oswald's pendulum arch and allows players to see their exact point of release, so if players try to launch themselves over a gap of lava and don't make it, they have a visual reference that shows them where they release.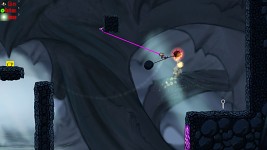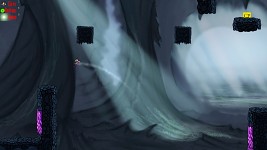 Enemies that think really changes the game. Well they don't exactly think, but your programmer Tim has certainly upped the Chaser enemies ability to be more dangerous. By creating a new prefab of the enemy and adding trigger volumes in certain locations, Chasers now climb walls, run faster, and jump at the player. By doing this with a separate prefab and slightly altering the color of the new Chaser, it effectively throws a wrench into the players thought process. After fighting the regular Chaser for a while, being suddenly introduced to a different looking one makes them stop and think if something different is going to happen. Next thing you know they're charging, jumping and relentlessly pressuring up and down walls. It certainly changes the game up during later levels.
One of the best parts of building games is discovering "features". Things that you never expected to do, or build, or a way to play, and happen to stumble upon which either look cool, play fun, or change the dynamic of the game. The new thing in Oswald that we've come across is "pole vaulting". By shooting your needle directly under you, and pushing down on the controls you can push yourself up off the ground with the needle and thread. The whole team has now been bouncing off the ground like crazy now. The best thing about a discovery like this is the ability to design around the mechanic. Our level designers have been coming up with ways that force the player to actually pole vault to get to the end.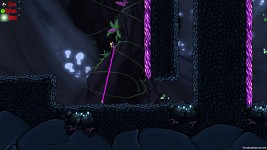 This past Wednesday was our Alpha milestone, and we really knocked it out of the park. All our documented features are functioning, all the sound triggers are working (even if just with place holder sounds), and even though it's not required, we're at 50-60% final art assets. We've still got a long way to go, and a lot of things to work on, but we've got more than just a prototype now, we've got a game. Take a look at this video of one of our Alpha intro level and enjoy.
And that's what's happening this week, in the lab.
Elliott Q Stewart