Click Here for the Latest Release
---
The latest prototype of Moonlight: Mistress of Mischief is here! The game now features two castles - the Treasure Temple and the Frost Fortress - with 10 levels, 2 enemy types, lots of traps, and even more shiny loot!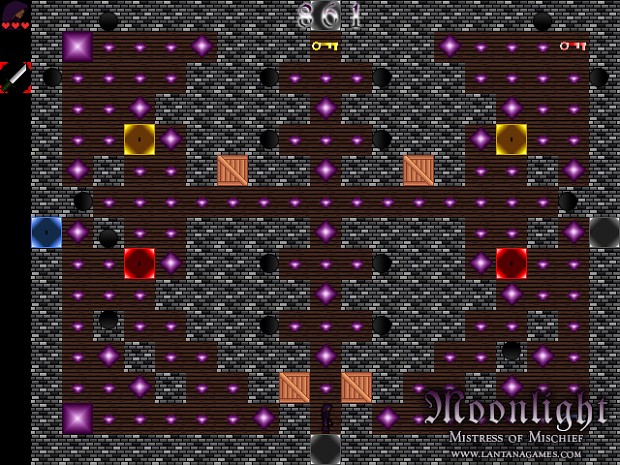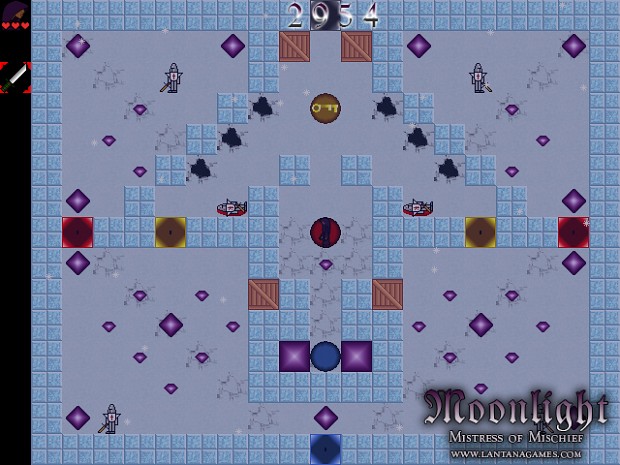 Full change list:
The Frost Fortress: This icy castle has cracks in the floor which lead to certain doom if broken. Precise movement is key to survival.
Frost Fortress transition screens.
6 new levels, 1 in the Treasure Temple and 5 in the Frost Fortress.
Reprogrammed AI and turrets for increased difficulty and consistency in behavior.
New enemy type, Black Knights.
Tons of new sound effects, including "bump against wall," "crack ice," "break ice," "splash," and more.
Placeholder music. Don't get used to it.
A health system has been added as a replacement for the Lives system. The game no longer starts over if you die. Instead, you have three health until you die, at which point the level starts over, not the whole game. The Lives system may be reintroduced at a later date.
The Mac and Linux versions of the game are no longer being included as they were apparently not working. I will be looking into this problem later when I have more consistent access to Mac and Linux computers for testing.
Enjoy the game!

Moonlight: Mistress of Mischief - Prototype Traile - Indie DB