After half a year of development, we're happy to announce a new MegaGlest release, version 3.6.0, packaged with exciting new features.
WHAT'S NEW?
MegaGlest 3.6.0 offers the following new features (over the previous 3.5.2 release):
Enhanced AI plays smarter and responds more quickly
15 supported languages with automatic detection, UTF-8 support and in-game language switching: Chinese, Czech, Danish, Dutch, English, French, German, Greek, Italian, Japanese, Polish, Portuguese, Russian, Spanish, Ukrainian
OS X support and packages - thanks Weltall
Headless server mode allows for hosting dedicated game servers
In-game team switching and pausing of network games
Lots of improvements to: multi-player chat, mod menu, options for game modifications / total conversions, extended scripting support. Megapack balancing and Romans faction gameplay, music presentation, low food indication, multi-player game configuration, automatic router configuration (UPnP)
The complete changelog is available online.
GAMEPLAY
During the game, each player picks one of seven factions (Magic, Tech, Indian, Persian, Norsemen, Egyptians, Romans), makes workers harvest resources and build a settlement, explores new technologies and conquers one of more than 30 maps.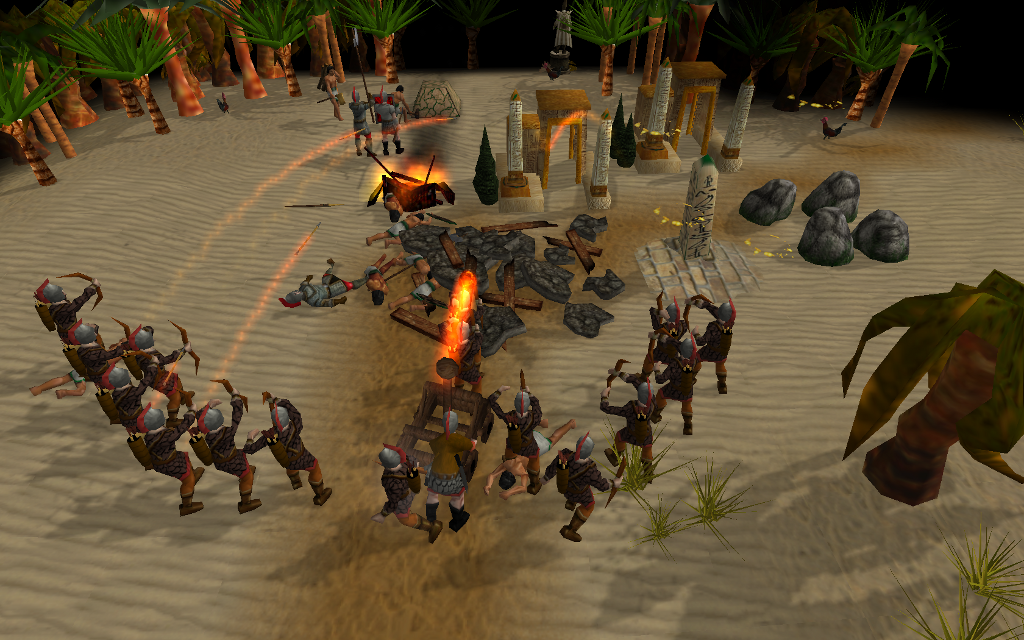 For new players, three tutorials provide a solid introduction to this colorful and atmospheric game, which, besides background music, ambient sounds and sound effects also comes with weather and daytime effects. MegaGlest provides support for up to eight networked (Internet or LAN) or AI controlled players. Internet games can be published and tracked on a master server. Additional game mods can be installed for free from an in-game menu. The game is available in English and currently eight other languages. Advanced players can extend the game using a map and model editor, and can add maps, tilesets, scenarios, tutorials and factions.
REQUIREMENTS
MegaGlest runs on Linux, FreeBSD, Windows, OS X and several other platforms (such as AROS). Ubuntu 8.04 to 11.10 (i686 and x86_64), Debian GNU/Linux 6.0 and Windows XP to 7 (32 and 64 bit) have been tested successfully. To play, a video card supporting OpenGL 1.4 and suitable drivers, a sound chip providing OpenAL support and suitable drivers, a modern x86 CPU with 1.5 GHz clock speed or better, 1.0 GB RAM, 1 GB free hard disk space and, to play online, a broadband Internet connection with low or medium latency, are required.
HISTORY
In early 2010, this Free Software / open source game was forked off Glest, whose development ceased in early 2008. MegaGlest's development continues under new project lead of the MegaGlest Team, consisting ofTiti_Linux, Softcoder, TomReyn and many other contributors. An in-depth discussion of MegaGlests' history is available in the September 2011 OSArena interview by Bill Toulas.
MORE INFORMATION
More information and downloads are available on the MegaGlest website:
We highly recommend to read the installation instructions and the Get Started guide.
More in-depth information is available in the README file which also ships with the game.
Frequently asked questions are discussed at
Faq.megaglest.org
Please report your experiences on our forums and report any bugs you may find.
THE FUTURE
To receive notifications on future releases please subscribe to our low volume announcement-only newsletter.
MegaGlest is now also present on the social web, please see our website for links to our Twitter, Facebook and Youtube.
MEDIA CONTACTS + COOPERATIONS
Please help us spread the word! If you need any game logos, screenshots, videos or similar please feel free to reuse those provided on our website (but please host them yourself). If you are interested in forming a media partnership with us, would like to receive a pre-compiled media package or have any special needs, please get in touch by e-mail at
media[at]megaglest.org
Please also subscribe to our announcement list (see 'future' section above).
Enjoy your games, and please share (and play) MegaGlest with your best friends and collegues,
The MegaGlest Team