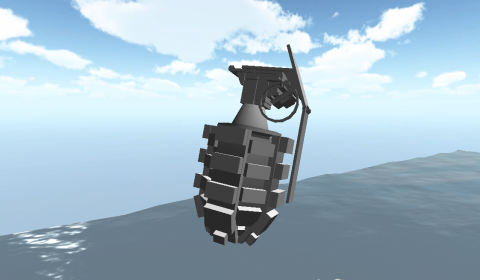 In this video we go into the details of the Concussion Grenade, one of the interesting tools in Intruder. Check it out below:
The concussion grenade is different from a normal grenade because it's main function it to destroy the balance of it's targets instead of killing them. It's an excellent tool to use for room clearing as well as retreating. The explosion has a fairly large radius and can send enemies (or yourself if you're not careful) flying... often times through windows or into hard objects. Making the concussion grenade work technically involves a few steps:
after the grenade explodes go, use the 2-check system to determine if it should hit targets
first, find what is inside the explosion radius of the grenade
second, raycast from the origin of the explosion to the hitboxes of the target objects to make sure nothing is blocking the way
if nothing blocking, take away 100% balance and add an explosion force (VERY useful Unity3d physics function)
Once again the primary function of the concussion grenade is to knock other players over. Opponents can stand up after getting hit, but it gives you enough time to put them down before that happens. The concussion grenade can still kill however if it's targets ragdolls end up hitting walls or the ground at fast enough velocity. It's also possible to vary the detonation time on the concussion grenade between 4 seconds and 1.5 seconds. 4 seconds being better for long distance throws and 1.5 being much better for room clearing. Throughout the play tests, room clearning has been the best use of the concussion grenade, especially if you have someone to open the door for you. In the comments let us know how you would use the concussion grenade and what you would like the next video to be on!
If you missed the previous episode, you can check it out here Youtube.com
More videos coming soon. Follow us here on twitter and subscribe to the RSS feed and YouTube page to get updates.