With the new modding capabilites it is possible to alter existing classes or to create new ones. New monsters can also be created to fill up the recruitment lists of new classes. Apart from modding there has also been some changes to the user interface that has been requested by players. E.g. pressing space now marks a unit as done for the current turn only and holding tab while viewing an army shows equipped magic items.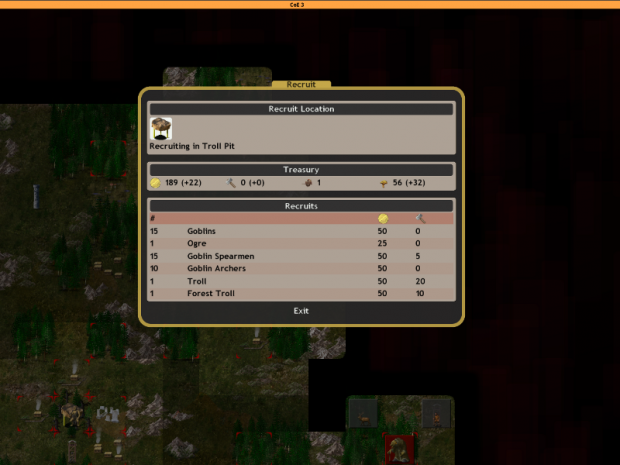 New features and bug fixes
Old save files are not compatible with version 3.06.
Knowing certain spells grants the burn forest ability.
Catapult icon for siegable locations.
Improved message when no commander can receive a found item.
Tab to show items in army screen.
Added cancel button to 'choose participants' screen.
No assassinations at failed summoning battles.
AI has improved army strength assessments. Now takes army composition and more special abilities into account.
AI slightly more aggressive.
AI improvement for Enchanter and Barbarian.
New ability: combatcaster.
New magic item.
Space = Mark commander as done for the current turn only and goto next commander.
Always get to reenter serial key next time if you get an 'invalid serial key' message.
'b' exits burn forest screen.
No message when pressing 'b' for people who cannot burn forests.
Game remembers old ip address.
Bumper harvest could happen during a draught, fixed.
Background fades when viewing commander stats from main map.
Dragon hatchlings can burn forests.
Outpost, cloud castle and desert palace are now siegeable.
Some southern terrain could appear despite it being disabled, fixed.
Sometimes there was missing halberdiers in the King's castle, fixed.
Archmage was missing from his citadel, fixed.
Will o'the Wisp now only floating with no flying.
Villages around King's castle could in rare circumstances produce gems, fixed.
Poison cloud spells target random row instead of first row.
Lots of behind the scenes stuff to enable the Voice of El (new class) in a future patch.
Modding
New monster modding commands, including many special abilities and weapons.
Commands to modify the recruitment lists for a class.
Commands to create a new class.
Mod banners no longer shown after a game has started.
Game exits with error message on unknown mod command.
New command: titletextcolor.
New command: tablecolor.
New command: newmonster.
New commands: guibordertex, guiborderthintex, guititletex, guibordersquaretex, guiborder2tex, guiborder3tex, guibartex, guisbartex, guibardarktex, guihbartex.
Map Editing
New triggers: chainevent, maybechainevent.
New trigger: ownslocterr.
Event position -1,-1 = last location, -2,-2 = random location, -3,-3 = random land location.
Event position -4,p = have event at home of player p.
Max number of events for a map increased 1000 -> 3000.
Mac OSX
Mac OSX version now saves stuff in ~/.coe3 instead of in application bundle. Making saves remain through upgrades.