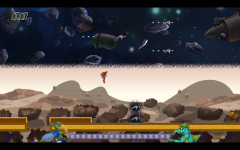 Today is the day!
Our platformer shmupper jetpacker dotnommer hacknslasher hybrid 2D explosion is available to the world starting right this second!
Because we never know when enough is enough, we have yet another new trailer for launch day.
Concursion is more than five games in one.
Given the gymnastics you can perform where the worlds come together, it's a fresh take on the mashup concept altogether.
Challenging, confusing, fast-paced, fun.
Concursion, now available on Steam!