Hi everybody, it has been a while since we uploaded something to this forum. Today, we want to show you the development of a character of our game, through some images. The model was made by our 3d artists, and it is a low poly character even if it doesn't look like one . The character is being rendered on the low-end reference machine (the machine used to determine the minimum requirements of the game), this is :
AMD Sempron 1.5 Ghz
ATI radeon x1200 with 128Mb in VRAM, and Pixel Shader 2.0 support.
1Gb RAM
Windows Xp Service Pack 3, 32 bit version.
Without further explanations, I introduce you to the first member of the 3:00am Dead Time Research Team. The investigation is about to start...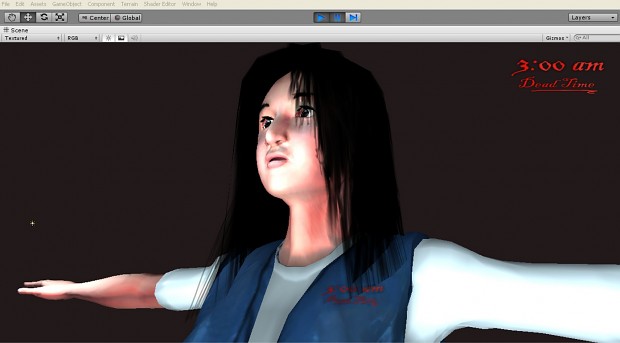 As you can see, the skin of this character has a very natural looking, with the proper lighting and color, all this in real-time
But what you can't see in this screenshot, is that the model has a very smooth surface, without anti aliasing, even if this is a low poly model, and even on an extreme close up :
As you can see here, the girl's cheek is very smooth, as well as the rest of her face. The skin has all the details that real human skin has, and this makes her very useful for extreme close up shots :
Our first test with the character, while we were yet placing the hair and other details...
The eyebrows...
or the eyelashes :
And in around six hours of hard work, we had the model ready to be used (almost).
We hope that you will like the overall looking and feeling of the game, once Beta 2 is released. It has been a long while, and a long wait for it, but the improvements and upgrades from Beta 1 to Beta 2 are massive, so we are going a little slow with it. After all, we are also developing a hole new level for this beta, as well as new creatures, charactrers, a new environment system, a new HUD system, adding more than 100 new models just for the house scene...
Be prepared for Beta 2, and remember that if you help us funding at least 5 dollars, you will get access to beta 1, 2 (and all the others, as well as the final game) and also, we can make the game even better and bigger.
In the next days, we will upload also the development of our new improved 3d animals, and some screenshots of the renewed farm scene. Be prepared, the nightmares will begin soon.
The Irreverent Software Team.
Edited by: IrrSoft