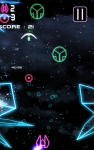 We just completed this game we called Z Cross(Zodiac Cross). It is a classic space shooter with motion control. It has a 2d gameplay structure built in a 3d environment. It includes a mission mode where you travel across the solar system to purge it of impurities and a survival mode where your scores can be uploaded to a score board. The game is built for high-end android devices and only runs on devices running android 2.3(Gingerbread) and above.
You can grab the full version and the free version in GooglePlay store .. And the free version is also available at andapponline.com and handster.com.
I cannot post a direct link since I am a new member.