Hey everyone,
I made the move from modding (though I still mod=P) to Indie start-up just over a year ago now and after a lot of hard work and a few set-backs we have some content to show off and gain some very valuable feedback.
The game is a collection of fifteen mini-games across three core game modes. These are Collection, Destruction and Race. Some of the mini-games are unique to Mech Mania while others are re-imagined or tweaked variations of existing mini-games! Think Fusion Frenzy or Mario Party styled games. Each game mode lasts a few minutes and is designed to be very easy to understand and play.
We're trying to recapture the feeling of sitting in front of the TV with friends, bashing each other senseless on the early consoles. We have a real emphasis on local shared screen play with the option for LAN and Online with scoreboards and other online features to give you a fun experience.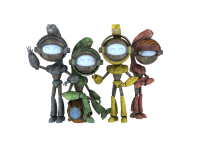 Thanks to Steam's Big Picture we can create a game for the living room without the need for a console license which fits the game perfectly.
We should be updating the page regularly from now on with new content including videos, music and a devblog all the way up to August, by which time we are due for our first full version of the game. We are aiming to release across PC, MAC and Linux with the final version =)
We recently managed to get funding for the game so thankfully money is no longer a worry, but what we would really like is to build a community and fan-base. To find people who love this sort of game play as much as we do!
We would really appreciate feedback and support from the community as we wade into serious development!