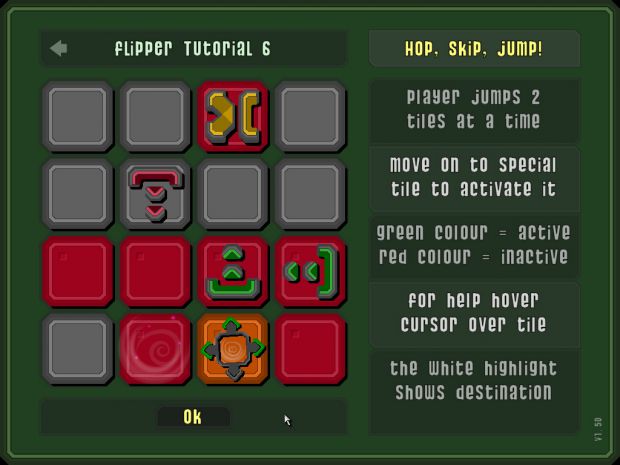 The next special tile moves the cursor 2 spaces forward based on the direction the special tile is facing. In order to use this tile the cursor must move into its grid space.
The Push tile has the familiar squared off base so that its obvious which direction it is facing. If the player starts on top of this special tile, it is shrunken down and not used.
The Push special tile can be rotated in 4 different directions and the shape has two different colours (green / red) to help represent if the special tile is active or not.
If the mouse cursor is moved over the special tile, the game will display a highlight showing the target destination of where the push tile is pointing.
The push special tile will not work if the following conditions are true:
- The target destination is pointing off the tile grid
- The target destination contains a grey tile (Cannot jump to an empty space)
- The push special tile is located above a grey tile
- The target destination contains another push special tile (Cannot have jump loops)
When moving the cursor onto a push special tile, the previous cursor and special tile location are lowered by 1 colour. Any tiles that are skipped over by the push function will not be affected but all tiles at the destination target will be.