Installation of the Freelancer Shadow of Fear Mod
current Mod version: 2.0 build 8842 RC4
To play Shadow of Fear you need to install a fresh copy of Freelancer.
The vanilla 1.0 installation is good to go (yes, no further patches or updates are needed) and the guaranty for the best mod perfomance. You also need to have a look whether or not your Savegame Directory from another Mod or Freelancer itself is deleted or renamed (\My Documents\My Games\Freelancer) if not, please do so.
Download the Shadow of Fear Installer and start it (it needs a little time to start because of it's size).
Freelancer Installation
Before you can install Shadow of Fear you need to install Freelancer. The best method to get the best mod performance is the Installation of a plain Freelancer ("Vanilla") without any update, patch or community created File.
Shadow of Fear comes with everything needed except Freelancer itself, due to it's copyright.
After you did so, run Freelancer once to let the Game create new Save Game and Setting Folders. It is strongly recommended not to use former Save Game Directories or Settings.

Please rename or delete exsisting Freelancer Save Game folders!
possible Freelancer Error

When starting Freelancer vanilla the first time, you may get this error. Freelancer is an old Game so your grafic card is most likely not in the Database of the original Game. After you installed Shadow of Fear you'll get an updated version of the file which is holding the grafic cards settings. If this error will still remain after you installed Shadow of Fear, please refer to this article:
Freelancer 3D capable Videocard not detected
Freelancer Initialization
Just start Freelancer once and exit the Game, so the Settings and save game folders are build. It is strongly recommended not to use former Save Game Directories or Settings.

Please rename or delete exsisting Freelancer Save Game folders!
I know we told it before but this is the main reason for corrupted installation processes.
Please start the Shadow of Fear Installer now.
Shadow of Fear Welcome Window
You will get this window after you downloaded and started the Installer.
When starting the Shadow of Fear Installer, please be patient, it is giant and needs it's time to start.
File Descripton: Shadow of Fear 8842 RC4
exact name: Shadow_of_Fear_8842_RC4_Client.exe
exact Size: 1,62 GB (1.741.370.912 Bytes)
exact Size on your HD (NTFS 3.1): 1,62 GB (1.741.373.440 Bytes) - depends on your Operating- and used File System.
License Agreement
Shadow of Fear License Informations,
to be agreed and accepted (in short: Creative Common License, naming, usage upon our work under the same license and more - just read it)
The copyright of the game files stays of course the one from Microsoft and Digital Anvil.
choose Installation Type
You may choose whether or not Anyone on your computer or only you will be allowed to use the installed Files.
Destination Folder
The Destination Folder of Shadow of Fear must be your Freelancer Directory!
The Installer is recognizing that you attempt to install in a directory which is not empty and is asking for your permission to do so.
If you do not get this window while installing Shadow of Fear, you will not be able to play the Game,
because the core Freelancer Files are missing and your Installation will Crash upon Application launch.
Just press ok so the Files will be installed, overwriting the Freelancer Installation.
choosing the programs Start Menu folder
You can either put Shadow of Fear in every exsisting Start Menu Folder or make a new one.
Icon Placment
Here you may decide about additional placements of Shadow of Fear Icons. A Start Menu Entry will always be build.
Summary
Please check if everything is ok an press Install to start the Installation of Shadow of Fear.
Shadow of Fear Installation Splash Screen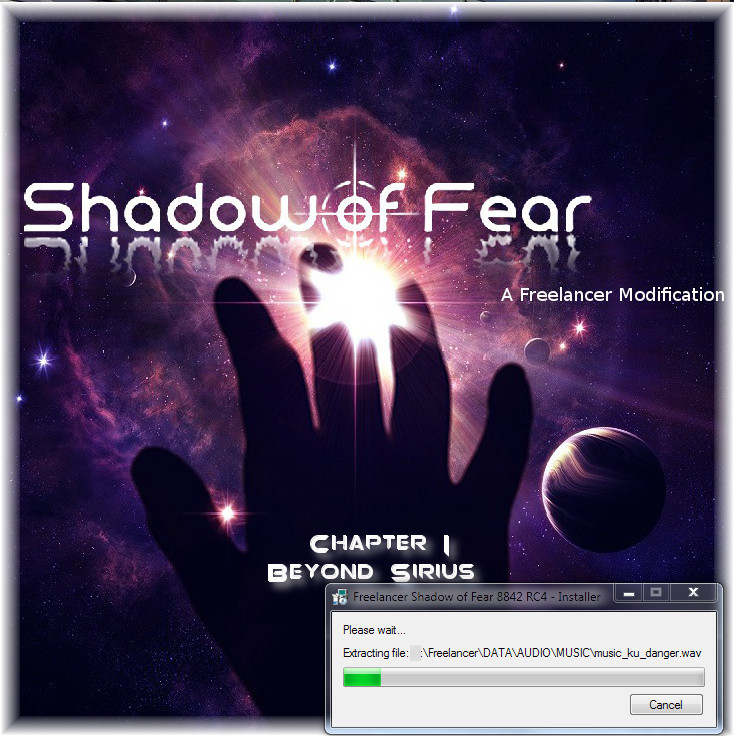 Installation completed
Well done pilot, you managed to install Shadow of Fear!
Not everything is done yet, because you need to change the resolution of the Game for the best Game experience but you should be able to start the Game now.
The last Window contains a readme file. This File when checked shows our Credit Page together with the Changelog Page. Hopefully we did not forgot someone to mention but if so, just inform us on our Forum, so we can add you to the table.
If you need more informations, please refer to this article: Sof.zumreden.de
Have much fun!
Your Shadow of Fear Development Team