Before you start with this tuorial, its best that if you are going into Source modeling then get the SOURCE SDK. Its a free tool. Go in Steam > Tools tab to find it and download it.
1. Extracting source files from GCF
Steam games content are normally packed inside GCF files. you can find them in Steam\SteamApps\ folder. First you need to extract the model, textures out from there. GCFScape can do this for you.
Nemesis.thewavelength.net
Point it to any GCF and it shows tree view of all folders and files inside and you can extract whole folders or selected files you need.
Model files: *.mdl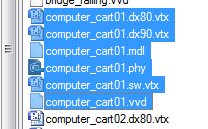 2. MDL to Decompilable-MDL
the only difference in MDL and SMD format is of a comma. To do this open the MDL file in a text editor (e.g. Notepad++ Notepad-plus-plus.org). On first line you will see IDST followed by a fifth character, change that to a COMMA (,). and save it.


3. Decomilable-MDL to SMD
Download MDLdecompiler ( Chaosincarnate.net ). Place it in your SOURCE SDK\bin folder. e.g. C:\Program Files (x86)\Steam\steamapps\username\sourcesdk\bin\ep1\b\
Run the MDLdecompiler from there to avoid any missing file errors. Do initial setup of input/output files default paths etc. now select the mdl you prepared and convert it to SMD


4. SMD to MAX
There are plugins available for 3D Studio max which let you import / export SMD model files. you can get them at:
Wunderboy tools (Max ver. 9/2009/2010): Wunderboy.org
Cannon fooders (Max ver. 5/6/7): Chaosincarnate.net
follow their installation instruction to install the plugins in 3D Studio max and then you will be able to directly import the SMD files you created in max.