The other day a friend dropped by on a personal visit and asked me to look at his computer, hoping I could tweak it a bit to make it run better.
I was a little shocked to find he had outdated anti-virus, but I wasn't surprised to find that the outdated anti-virus couldn't catch the dozens of trojans and spyware his computer had mucked up.
His answer to all this was "I had no idea." I then thought of the possibly hundreds or even thousands of other users that probably visit this site and have no idea what their computer is even doing.
This isn't aimed for the experts of the community, but aimed for the general PC user. Who knows, this might prove very valuable.
Defense:
The first step to good computer security is not letting anything in of course! A firewall is obviously the best start. Second, getting a decent web browser.
If your an internet explorer user, I'd highly recommend you try something else. Mozilla Firefox, Google Chrome, or maybe Opera are much better choices. If you still like Internet Explorer, just be sure to make sure its up-to-date. (At least IE9 is around the corner!)
Next, immunize with Spybot: Search and Destroy!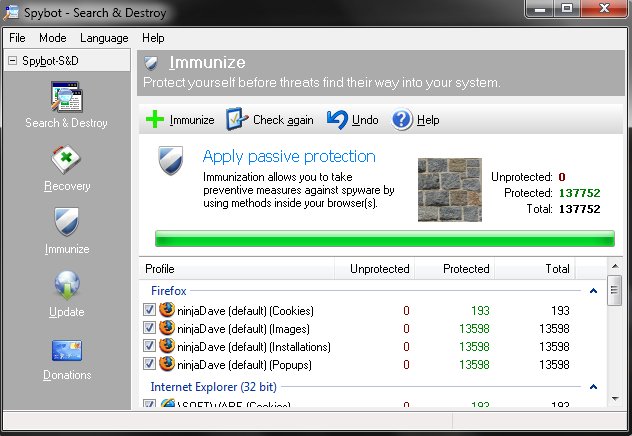 Spybot is a free (Runs by donations) anti-spyware program that uses your browsers to keep your computer safe. Also great for cleaning spyware out of a computer.
Anti-Virus
If you own a PC, I really hope you own anti-virus.
If you don't for whatever reason, these are the top rated three (Of the free versions):
Avira - AntiVir Personal
AVG - Free Anti-virus
Avast! - Free Anti-virus
For things like adware or malware, I'd recommend these (Both are free):

Ad-Aware anti-Malware
Malwarebytes anti-Malware
Naturally there are dozens of other choices, and also note that having multiple anti-virus programs does not mean that a computer is safer. In fact, often times these programs can attack each other.
Also keep in mind that an outdated anti-virus program is a useless anti-virus program.
Maintenance
Cleaning up old files can actually be a hassle. If your like me with dozens of old textures and models, well those are hard to throw away. What is easy to throw away is files leftover from browsers, which are very easy to get rid of with something like CCleaner. (You should also note that its free!)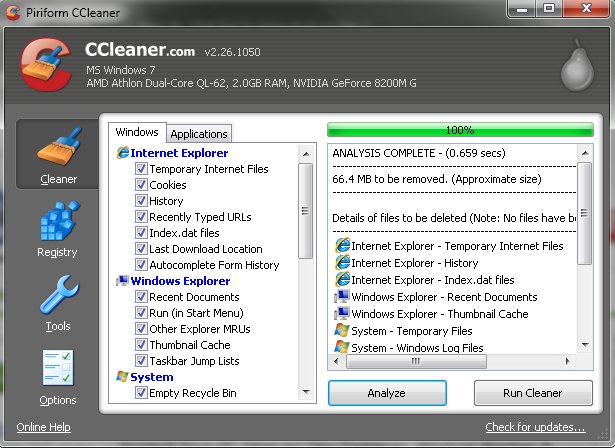 Don't make fun of my computer specs!
Ccleaner can clean out extra files from all your browsers, clean out bad registry files, stop useless start-up programs, and more. A neat tool for any PC user.
Every once in awhile you should do a disk defrag as well. As usual, there are quite a few. Rather than using the default microsoft ones, I'd recommend one a little more specialized (Free as well!):
Auslogics Disk Defrag
Smart Defrag
There you have it, several very useful programs.
This won't make your PC unstoppable, sadly. The best policy is avoid phishy sites and not donate all your paycheck to that Nigerian prince. You should also watch out on which links you click.
Until then, Cheers!