T he download includes a copy of Jonesoft's excellent Generic Mod Enabler software, which allows you to install/uninstall FUEL: REFUELED and optional packages with just one click. This guide will provide a few simple step-by-step instructions on how to install and operate this software.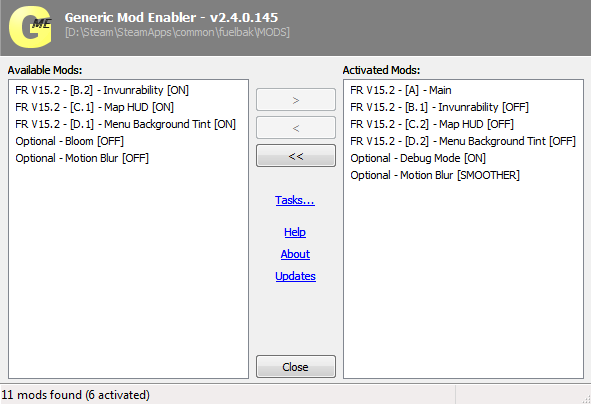 Step-by-step instructions:
Locate your FUEL installation directory, for Steam Users this is: ~Steam\SteamApps\common\fuel
Drag-and-drop or extract the entire contents of the .zip archive into this directory. There should be no need to overwrite any files, unless you have a previous version of this mod installed.
You should now see an executable (.exe) called 'JSGME.exe' in the main FUEL directory. Launch this application.
If this is the first time you've installed FUEL: REFUELED then you will not see any current Activated Mods on the right column. If you have installed an earlier version then remove all Activated Mods now (You can always reinstall optional packages again in a minute).
FUEL: REFUELED V15.2 is broken down into four pieces, denoted with the letters A to D, allowing you to customize your installation based on the available options.
To install FUEL: REFUELED simply click on the package and use the button with indicated arrows to move it to the right column. You MUST install all four parts - A, B, C and D to get the mod to work, but MUST NOT install two parts denoted with the same letter - i.e. installing B.1 and B.2 won't work. See the screenshot above for an example installation.
You can now close the JSME.exe and launch FUEL as usual.
If you wish to learn more about JSGME then there is a detailed guide available here. This may also be accessed by clicking 'Help' in the JSGME application. JSGME is a free software and I am in no way affiliated with JSGME or the developers of it etc.




Questions:
Why is JSGME used? and why not just install the files by hand directly?
The advantage of this software is that it does not overwrite any of the default game files during the installation progress. It also allows you to one-click uninstall FUEL: REFUELED so that you may install a newer version or just revert back to the stock game without any issues.
What if I don't want to use JSGME?
Fine. You can just drag the contents of ~\Mods\'mod name'\ from the download .zip into the main directory of FUEL and overwrite the default files. Just don't go complaining or demanding why it doesn't work in the comments section of the FUEL: REFUELED ModDB page!