I finally made my portrait for my new unit passing the white background issue So i want to share this tutorial with you.
1. take a photo of your unit pressing the Print Screen button on you keyboard and paste it in a graphics editor (like gimp). You can also just render your unit and export a picture of it, then open it with a graphics editor. Optionally you can apply a comic filter for sense.
2. open a new TRANSPARENT image with 128x128 dimensions.
3. scale your photo so it would fit the 128x128 image.
4. select the content of your image you want to keep.
5. move your selection to the new image and scale it if it doesn't fit.
6. now you have what you want but you must ALPHA ENABLE it to prevent it from having a white background instead of the transparent one you see on the editor.
7. enable Alpha Channel. If you have problems with that read the Graphics editor manual or search for a tutorial in the internet. In gimp go to the Layer window (the one showing your image), select Layer -
Transparency - Add Alpha Channel. If this is blanked out then it's
already done.
8. Save your image. In CnC3 images should be stored as .tga (targa).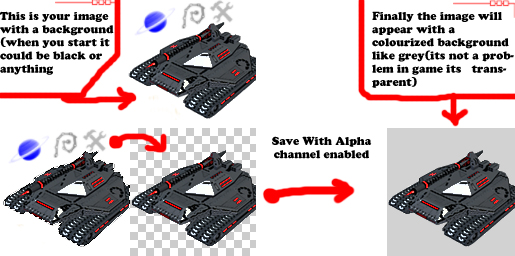 I hope this solves the problem with the white background.