Zombie Bomb Splode Now Available on App Stores Worldwide
Industry: Games
Zombie Bomb Splode Now Available on the iOS App Store, Windows 10 Store for Windows 10 and Itch for Windows and Mac OS. Strategy/Puzzle/Variety aimed at casual gamers.
Clifton Park, New York (PRUnderground) April 6th, 2017 Michael Cozzolino DBA Big Monk Games releases Zombie Bomb Splode. The first multi-platform game from Big Monk Games. Zombie Bomb Splode is available on the iOS App Store and for Windows 10 on the Windows 10 Store and Windows and Mac OS on the Itch Store.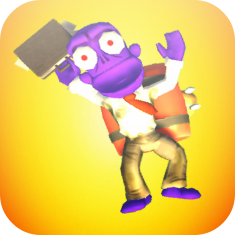 You are in charge of disposing of the Zombie Bombs that the military drops into the containment unit. You must have quick reflexes, a sharp mind, and time management skills. The zombies are strapped with bombs and need to go into the correct containment vessel or they will destroy the facility and render it useless. It;s up to you to dispose of as many zombies as possible so life can return to normal.
This mini game has the player dragging around the purple Zombie Bombs in the purple containment vessel and the blue Zombie Bombs in the blue containment vessel with his/her mouse(PC) or finger(iOS). Many Zombie Bombs appear in this mini game and the more Zombie Bombs put in the right containment vessel, the harder the mini game gets with more Zombie Bombs coming out more quickly. If the player puts a purple colored Zombie Bomb in the blue containment vessel or a blue Zombie Bomb into the purple containment vessel, the other Zombie Bombs of the same color explode, and reduces your score by the bombs of that color on screen, it is an automatic explosion and Game Over.
Available Worldwide April 6, 2017
Zombie Bomb Splode is a single player casual game that ramps up to a fast frenzy of sorting zombies before they explode. Total zombie saves of all time are saved to the device as well as the top 5 scores earned per play. Players can enter their own name before playing in order to differentiate high scores between players on the device.
Price: iOS $1.99 USD | Windows and Mac OS $3.99 (prices in non-US territories may vary)
System Requirements
iOS – iOS device running iOS 10.0 or higher
PC
OS – Mac OS El Capitan or higher. Windows 7 or higher.
CPU – SSE instruction set support (recommend Intel i3 equivalent or higher)
Memory – 2GB (4GB or higher recommended)
GPU – 128MB with DirectX 9 or higher
For more information visit our website. Bigmonkgames.com or follow us on Facebook or Twitter.
iOS version of Zombie Bomb Splode is available on the App Store
Windows 10 available on the Windows 10 Store and Itch.io (Windows and Mac OS)
Press assets for Zombie Bomb Splode are available at Bigmonkgames.com
Legitimate Press may request promo codes to play and review the game through our press email or our website contact page.
About Big Monk Games
We are an Indie Game Developer from Albany NY area using the Torque Game Engines created by GarageGames as well as Unity Game Engine. We currently are working on PC, iPad and iPhone devices. Game releases include Cat Games, Cat Games 3D for Cats and Kittens, Cat Games String Toys, TNT Fred and Tribal Fruit.