---
YVR 29/9/17 Update (and problems)
---
This will just be a small update on the mod, nothing major has really happened with it. I`ll just be highlighting a problem I`m having with the mod right now with a couple new screenshots.
---
YVR is a big mod, and it`s my first mod, because I ain`t like other modders that`ll just make a really flat map with minimal side changes.
Buuut because of it being so big, and BF2 being so old, the map has encountered some strange problems/glitches over time. The main one I`m talking about that`s causing the most problems, is a very annoying bug that stops me from changing the gamemode layers, like Conquest (layers have all the objects necessary for a gamemode). For non-modders/people that have no idea what the Jawa I`m talking about, it basically stops me from moving things like Command Post`s and vehicle spawns around, and as I`ve edited the map a bit, some of the CP`s and vehicles spawns are in places that don`t suit them, and I have actually moved them, but because of the glitch, they`re still in their original spots.
I`ve tried cleaning the map and seeing if that worked, (cleaning a map usually fixes bugs like this) but whenever I do that, it either messes up all the layers, so for example, starting up the Conquest mode works fine, but you can`t spawn. Why? Because all the CP`s have disappeared (go figure), or, it just makes the map as well as all gamemodes crash.
This makes it very annoying to continue making gamemodes and stuff, because I want there to be CP`s and things in certain spots, but the map just won`t let me. The bug also stops me from making new layers, so I can`t just remake each layer.
But these gamemodes WILL still happen! I`m trying to figure out how I can fix this "anti-layer-updating" bug, but if I can`t fix it, then I`ll try my best with what works.
I also plan to get a semi-custom model into the map as well. I haven`t gotten up to this part yet, this will probably be happening near completion of the map.
---
Some question you may have
► When will the map be finished?
No idea
► Why is it taking so long?
It`s a big mod map, with lots of stuff in it. That and it`s hard finding motivation to continue. I`m a really lazy person
► Will you still continue making it?
Of course, I ain`t gonna just STOP. I`ve done so damn much. It`s taken so long. I`m never going to just stop making it. YVR WILL be released one day.....just dunno when..
Anymore questions? Use the comment section below, I have no life and regularly check back here for new comments.
---
Now for a couple new screenshots
2 new things you`ll notice in these:
► I gave some unit`s a DC-15s instead of a pistol as their secondary (see the heavy trooper)
► I`ve added a whole bunch of grass to help cover up the ground, this makes it look soooo much better
To all the people that are still here and regularly comment, thanks :D
Seeing people comment is one of the things that motivates me to keep working on this.
---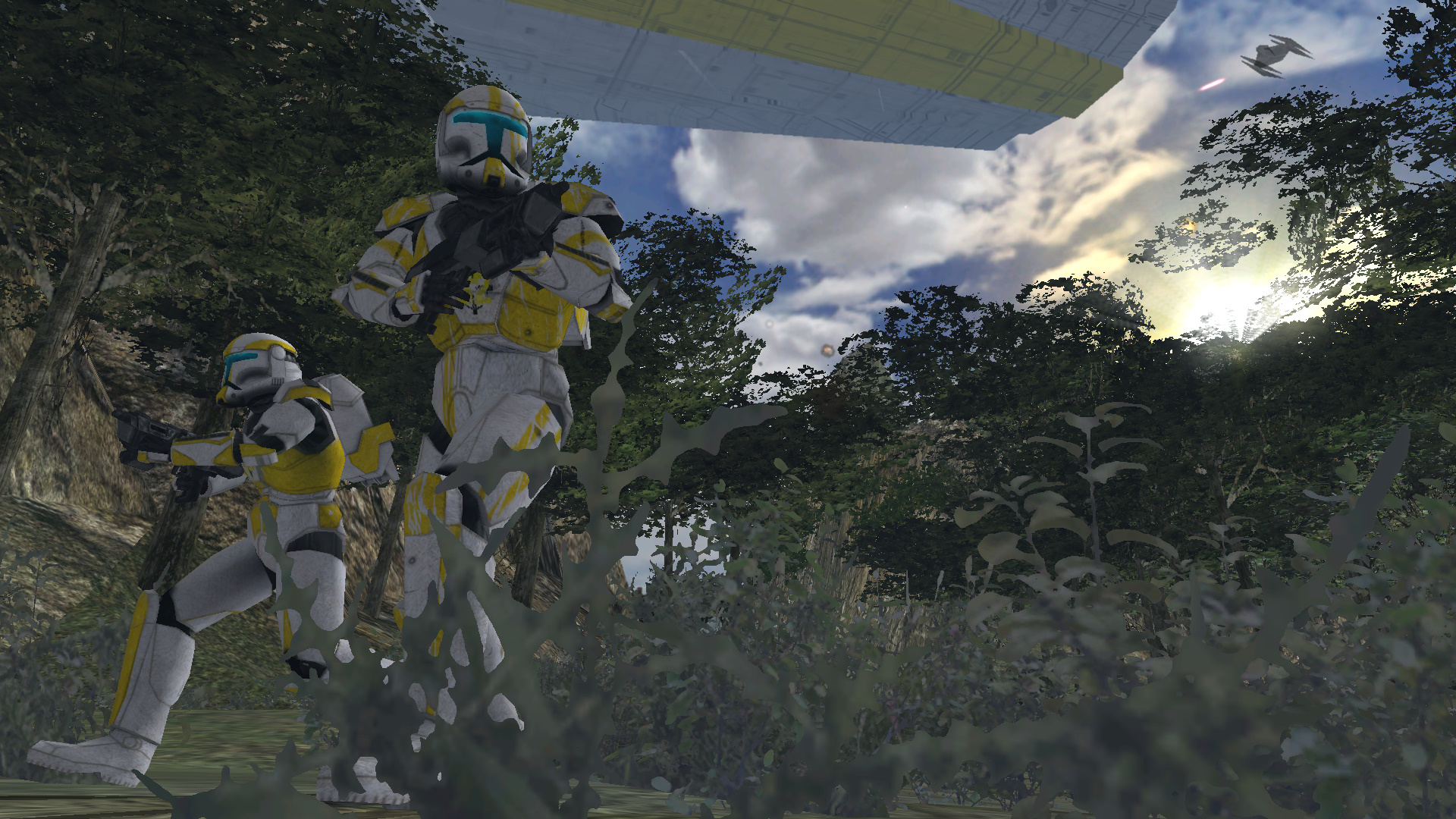 Oh yeah, from one of the gamemodes
---