It's been now 2 years that we're working on Subscribe & Punch! a versus fighting game based on the wacky YouTubers universe. We're starting a Kickstarter campaign on February 12th with a free playable demo on Steam!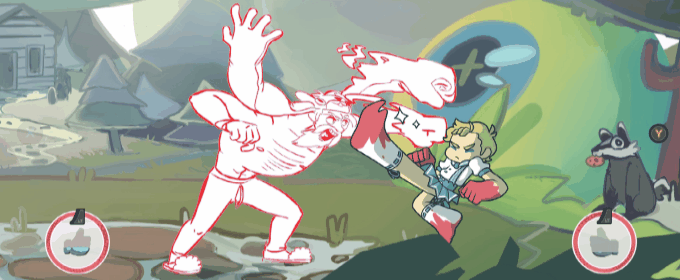 Our full roster is composed of Poodiepie (Pewdiepie), Markimoo (Markiplier), Jackaboy (Jacksepticeye), ToastyKen (Cinnamontoastken), YanderMinx (RPGMinx), Cryatomic (Cryaotic), The SexBo'Bomb (Game Grumps) and a secret Boss.
Discover a stylized and colorful cartoon universe based on the top English-speaking gaming YouTubers
Put yourself in the shoes of your favorite character and get ready to fight with some fast and easy chainable combos
Experiment various mini-games & humorous interactions inside with YouFight, a fancy parody of YouTube hosting the wildest combats
Live again the Golden era of the casual fighting games by unlocking numerous stuff such as new colors and projectiles for your characters
The demo will propose to play as Poodiepie and ToastyKen on two diferent stages. You'll be able to fight against another Player or against an AI. We're still working on the game and tweaking various things so if you have any feedbacks we would love to hear from you! You can also subscribe to our newsletter to keep updated about the announcements.
We care a lot of our community and we are regularly organizing community events to make a great parody all together! For example here you can add your own comments and video titles.
ABOUT US
Subscribe & Punch is made by fans for the fans, we want to make a tribute to the YouTubers and build a long-term universe with the community. Our team is mostly composed of students & junior professionals who gained extensive experience by working on the Tom & Jerry Show, My Little Pony The Movie, collaborating with the YouTuber Markiplier on an animation video and winning the second place at the Microsoft Imagine Cup France 2017.