X-Tended - Terran Conflict (XTC)
The X-Tended Team has been working on a new mod since before X3: Terran Conflict itself was released. Things have been pretty silent from us for quite a while now, but the project is not dead. We were merely waiting for the right time to say something about it. :)
The mod certainly hasn't been finished, and is still far from completion, but we have already done a lot of work and invested months of time in it. We have good reasons not to release too much information just now, one important thing we decided back in autumn is that we are not going to promote any feature which hasn't been fully implemented yet. That way we believe we can stay true to the things we announce and avoid disappointment for the fans because a promised feature didn't make it into the release version.
We do not have a concrete, or even an approximate, release date set yet. Looking at the amount of work we have already done, and looking at what we still want to complete before the first release, we think that we are going to get a release in the fourth quarter of 2009, but with a project of this size that could slip a little.
While we cannot tell you much about what particular features are going to be included in the mod, we can of course state the obvious:
* There are going to be new sectors
* There are going to be new ships
Furthermore we have set ourselves several goals which we want to complete: In the original X-Tended Mod's core there were many new ships, above all the M7 class (as The X-Tended Mod's original name, the M7 Mod, indicates).
As many of the ships were included in X3: Terran Conflict through many of the original X-Tended Mod's creators becoming co-developers with EGOSOFT themselves, and with all the remaining X-Tended ships gifted to the team by their creator Mox, we have more time to invest in other areas while still featuring new ships. This allows us to focus upon areas which the original X-Tended Mod didn't as a general rule: Storytelling and general game play.
X-Tended - Terran Conflict will feature a new setting created from all the information we could find in the games and polished by detailed information we picked from the various X-universe books available from Helge himself. Like the original X-Tended Mod, we strive to keep the X universe's authentic feeling intact, and we will only add new content that is fitting and expanding upon this unique game-universe.
Gameplay wise we have decided to make it more challenging for the player. The games of the X-series have always been games in which the player has to invest hours and hours. Sadly, this aspect was weakened in X3: Terran Conflict. We will aim to make it more challenging again while keeping the game in balance.
Now for some eye-candy. A few early development shots. (All content subject to change as we develop the mod further)
(Click a picture to see the full size version.)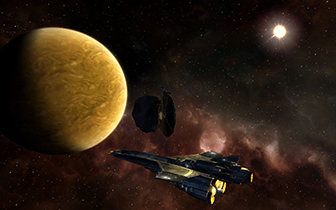 That concludes what we're willing to release in terms of information just now. ;)
The X-Tended Team
The X-Tended - Terran Conflict Forum. (EN)
Das X-Tended - Terran Conflict Forum. (DE)
The X-Tended - Terran Conflict Thread at Egosoft.com . (EN)
Der X-Tended - Terran Conflict Thread auf Egosoft.com (DE)