That's right, as of 25th October 2017, the Early Access version of the sci-fi roguelike Xenomarine is available on Steam. In this article, I'll be marking this milestone by providing a general introduction to the game, discussing it's more distinctive features, the way it stays true to traditional roguelike gameplay. I'll also talk about the current state of the Early Access version.
To start off with, though, here's the game trailer:



A sci-fi roguelike

In many ways, Xenomarine is a traditional roguelike game. It is all about turn-based, grid-based combat and the tactical choices that go along with that. Like many roguelike games, Xenomarine also features a huge range of randomly generated weapons, armor and other equipment, and the key challenge is often about deciding when the best time is to use that stealth field, or that flash grenade you've just found.

The game also has another core feature of traditional roguelikes: permadeath, i.e. no going back to a saved game if you die. And each level (including the enemies and loot) is procedurally generated, meaning that when you do die, and start again, you have a completely fresh challenge. And again like many games in the genre, Xenomarine is essentially a 'dungeon-crawler': not much of a plot, and a focus on staying alive in tactical combat as you progress through one level after another.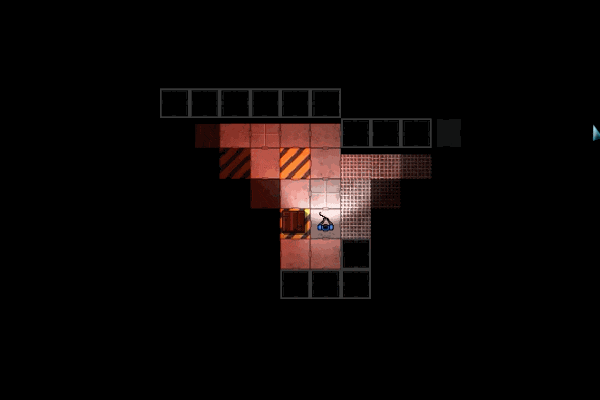 So what sets Xenomarine apart? Actually a lot of things, but I'm going to focus on a few: 1) atmospheric lighting and sound 2) infinite levels, 3) it is item-centric, 4) it is direction-based

1) Lighting and Sound

Xenomarine departs from traditional roguelikes in having not only a relatively high-res art style, but 3D lighting. Aside form the ambient lighting the most obvious form this takes is the flashlight the player carries, illuminating a 90 degree arc in front of the player. This correponds to the limited line of sight the player has in Xenomarine, and many players have said that the scary atmospheric feel that results from this is one of the best things about the game. The realistic torchlight effect serves to emphasise the darkness of the rest of the level, and things can get genuinely scary when you hear the sounds of alien movement, or perhaps see them on your scanner, even though they are not visible (i.e. in your 90 degree arc).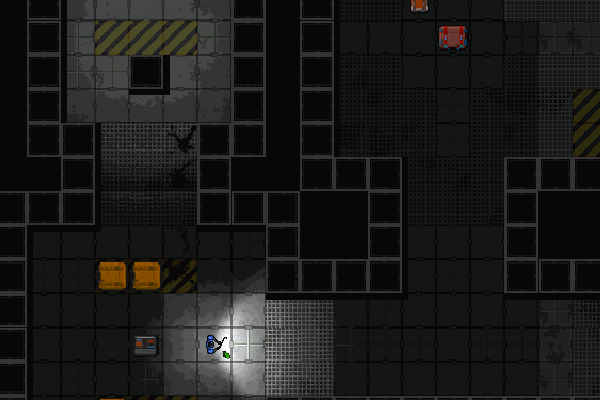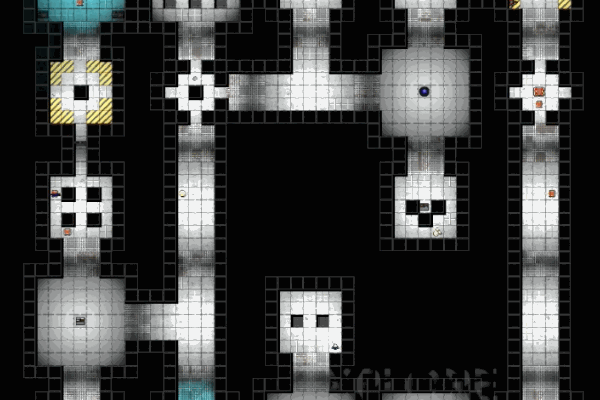 Xenomarine also features a host of realistic sounds effects that add to the atmosphere. A particularly noteworthy aspect of this is that ambient background noise is linked to particular parts of the levels so that you experience a unique 'procedurally generated' mixture of these sounds as you move around a given level.


2) Infinite levels

Traditionally roguelikes have a finite number of levels, with the final goal of the game being to recover the 'Amulet of Yendor' or some such item. Xenomarine is different in that the aim is simply to get to the highest level you can, and the level generation algorithms are designed with that in mind, with levels getting progressively harder without limit. My hope is that this will appeal to players like me who are nostalgic for the highscore-based gameplay of many early video games.

Highscore based games always seemed to me to offer a certain kind of limitless possibility. If there is a fixed goal in a game, then my motivation to play the game again is always reduced after I have reached that goal once. But with a highscore-based game, you never reach that point - you are always motivated to do 'one more run' in an attempt to beat the amazing highscore you set last time. The highscore-based nature of the game is reflected in the classic highscore tables available and the detailed stats that are preserved for each highscore.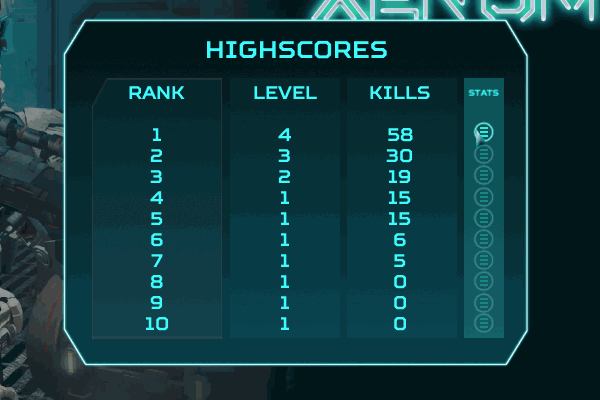 3) Item-centric rather than skill-centric

Some games place a lot of focus on complex skill-trees, which often make available whole new abilities. By contrast Xenomarine is what I call an 'item-centric' rather than 'skill-centric' game.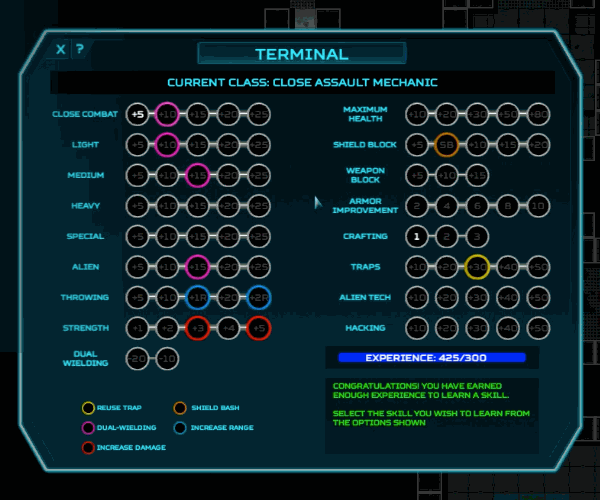 Although Xenomarine does have over 17 unique skill types with over 70 skill levels (and an innovative system in which your class is determined by the specific skills you have chosen rather than the other way round as in most games), the focus when it comes to character development is actually on items, by which I mean weapons, armor and other unique equipment like scanners.

While everyone will have their own preferences, there are good reasons for making a game item-centric, which is that it allows for more variety over the course of an individual run. A skill, once learned, is a permanent addition to the players skillset, leaving no further choices to the player. An item on the other is only an addition while it is equipped, meaning the player always has interesting choices to make about which items to equip at any one time, and as Sid Meier says, 'a game is a series of interesting choices'.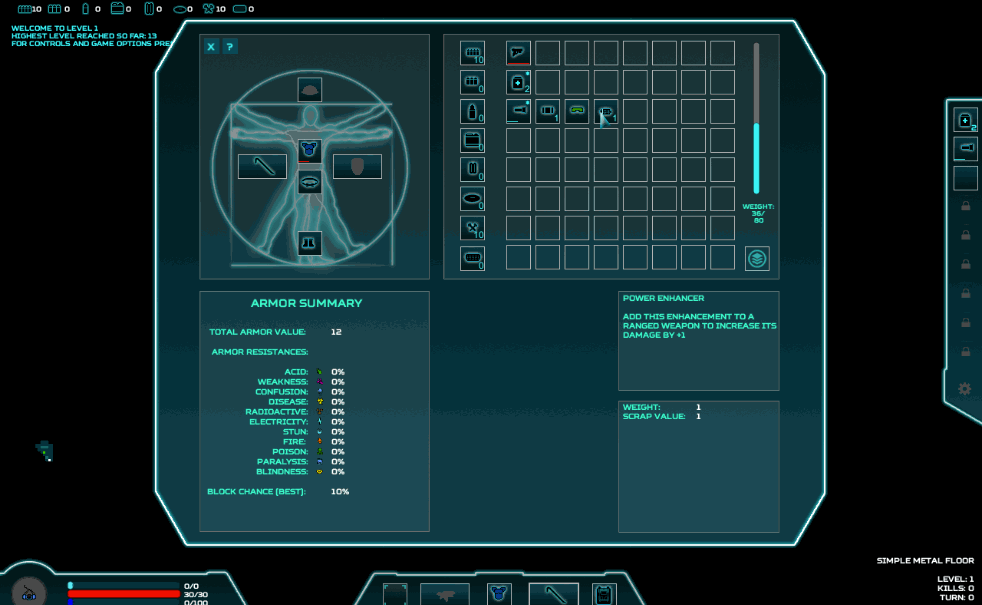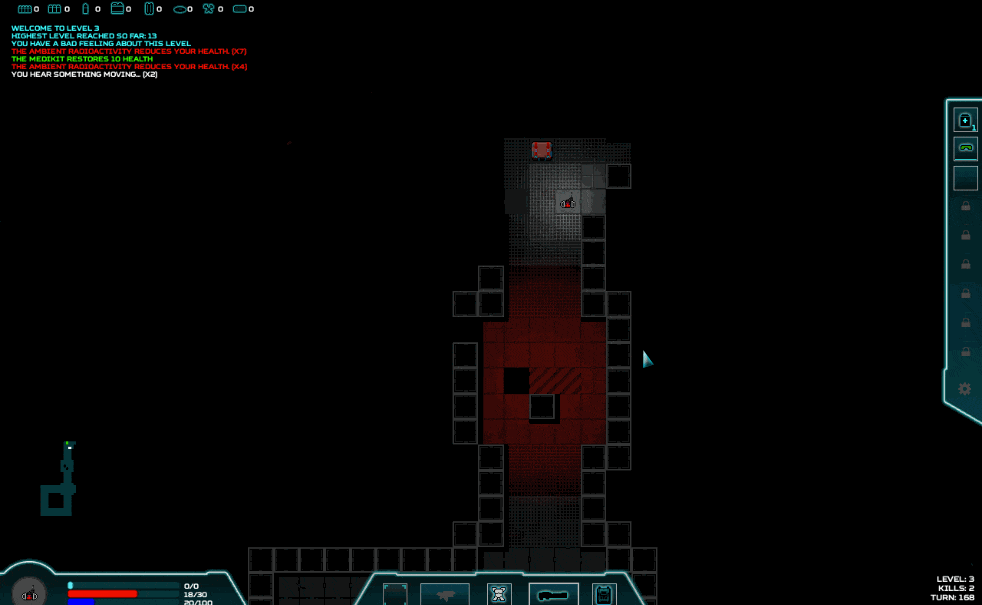 Xenomarine tries to maximise the interesting choices involved in two ways. Firstly there is a real variety of equipment types ranging from scanners, to stealth fields, to night vision goggles, blind grenades, traps and hacking devices, each one of which has different game mechanics associated with it. Secondly it has a distinctive system of 'belt slots' - essentially like quickslots in many RPGs with the difference that the number of belt slots available at any one time is itself determined by your equipment, i.e. the type of belt you are wearing.

4) Direction-based

While most roguelikes allow the player to move or shoot in any direction without penalty, Xenomarine adopts the mechanics of games like Space Hulk, in which changing direction has a gameplay cost that prevents you from taking other actions (again as in Space Hulk, the aliens you are facing do not have this cost, reinforcing the feeling that you are combating a quick and agile foe).

This particular game mechanic is under-represented in turn-based games in general, and my experience with Xenomarine is that it really adds to the tactical choices available when choosing how to position your character for combat, and certainly makes for a distinctive experience. It also works great together with the limited field of view described in point (1) above to create a scary atmosphere in which you can easily be ambushed from behind!

Xenomarine also has an innovative range of control schemes available to help players that may not be accustomed to this particular kind of movement.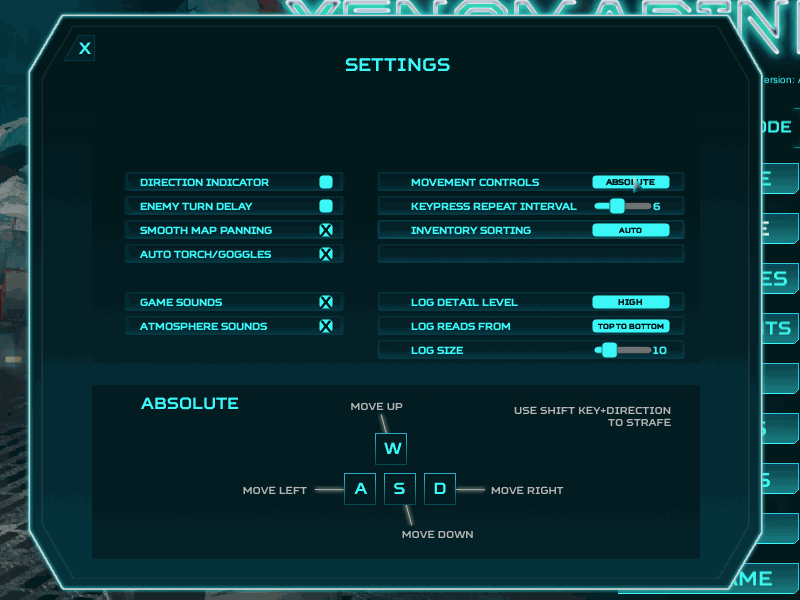 Want to know more?
If you want to know more why not check out the Steam page and read more about the game. And join the discussion and help shape the future of the game on itch or the reddit page. You can also check out the website, and follow Xenomarine on Twitter.