The big day is here! Preparations to release Wyoming for American Truck Simulator are in top gear. We are also preparing for a special release stream with special guests. So what time is Wyoming releasing?
Wyoming DLC for American Truck Simulator has been released!

So what exactly does our Wyoming DLC have to offer for truckers? These are just a few of the things we think you will love:
Deliver to and from 10 cities and discover 14 settlements
Discover and deliver to Wyoming's important industries like coal & soda ash, farms & agriculture, railyards, and more!
Haul livestock cargo to our new cattle auction houses
Drive on the Highway to Heaven.
Haul cargo on the I-80, the second-longest Interstate highway in the United States
See wildlife unique to Wyoming including Bison
Visit landmarks like Devils Tower National Monument and part of the Yellowstone National Park and get bird's-eye views with many new viewpoints.
Admire accurate representations of cities like Cheyenne, Casper, Jackson, Sheridan, and more!
Visit and take a rest at famous Wyoming rest stops & gas stations.
Unlock Wyoming-specific Steam Achievements
...and much more!

We will also have a World of Trucks event available for all new visitors to Wyoming, with unique rewards to be earned as you visit all 10 cities and deliver jobs. Learn more about the rules in yesterday's blog post and take part in #CruisingWyoming at WorldofTrucks.com. We'd love to see your photos across our Social Media channels using the hashtag!

We expect to have this event available to players for an extended period of time, probably way beyond the point of reaching the community goal. We don't want to motivate you to rush through the DLC in a hurry to make sure you manage to obtain the personal achievement. We simply want to reward early adopters of the DLC for spending quality time with the new content.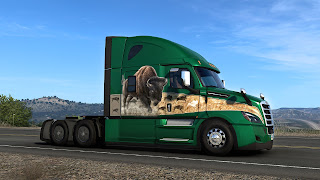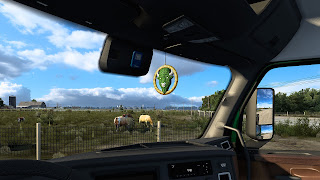 Speaking of rewards, all truckers in Wyoming are eligible to receive a special cabin accessory, a Triceratops plush toy! To earn this unique reward, simply take any External Contract or External Market job to or from the city of Gillette. Why this city specifically you may ask? Believe it or not, paleontologists digging in northeastern Wyoming (so near Gillette) have uncovered fossilized remains of three triceratopses - possibly the most complete specimens of the dinosaurs yet found! So be sure to claim your part of prehistoric history for your cabin.

We will also be hosting a special Wyoming release live stream across official Steam & Twitch channels starting at 16:00 CEST. Don't miss out on this broadcast as we talk with Davido (DLC Lead) PLUS a special guest appearance from Pavel Šebor CEO of SCS Software! We will be answering questions from the community, talking in-depth about the DLC, giving away free Wyoming Steam keys and of course, releasing the highly anticipated map expansion LIVE on stream!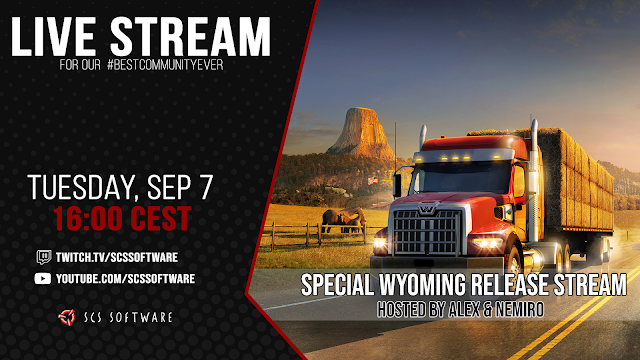 We hope you'll enjoy exploring what Wyoming has to offer! We will see you on the roads.