Launch date confirmed… the final countdown!
You've all marked March 17th, the official release date for Woolfe - The Red Hood Diaries, in your diaries, right? Just a few weeks away from D-day, it's all hands on deck in our studio – as you can imagine.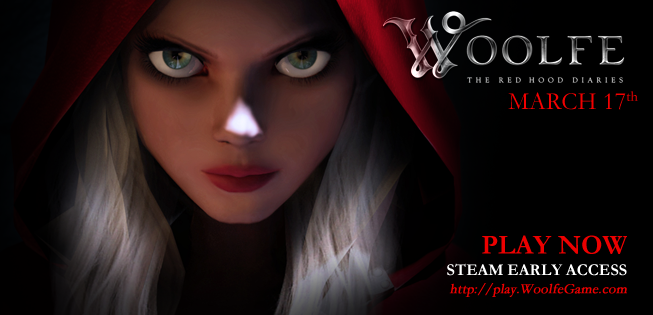 With only a few weeks to go until actual launch and only a small but perfectly formed team, we need all the input we can get. Are our tutorials clear? Do you understand where to go in the levels and what to do? We also need to widen our pool of players to help in balancing out the difficulty of the game, tracking down bugs and flaws, fine-tune level design and get better stats on known issues.
So, guess what: Woolfe - The Red Hood Diaries is now available on Early Access. And we really hope to see you there!
Ready, set, go play!
Drop whatever you're doing and book yourselves some Steam time for a city trip in Ulrica and an exciting getaway to the forest. Please leave us a note, a pat on the shoulder, a bug report or a review on how you experienced your stay in the wonder world of Woolfe. We're dying to hear what you think.
Please do keep in mind, we are still 48 days / 1,000 hours / a lot of polishing away from release. What you see (today) is not what you get (on March 17th), but… it's getting closer every day.
O, and do check out, like and share our brand new trailer:
But, seriously, you're still reading this?
Go! Play! Woolfe!
Play.WoolfeGame.com
Cheers,
The Woolfe Pack