Windward has just released build 175, and it's a huge update, to say the least. I highly recommend downloading the stand-alone version, as certain features (IRC chat, multiplayer) don't function properly in the web player. Here are some of the documented changes that you will find: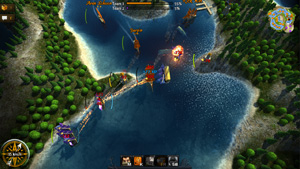 New map: The Ghost Lake (4 vs 4, replaces Azure Lagoon)
New map: The Short Straw (4 player co-op defense)
New ship: Schooner (fastest ship available)
Ships now have a character sheet and inventory
You will now notice items occasionally dropping in combat
Completing the match will now reward the player with a higher quality level-appropriate item
Equipment now plays a major role in your ship's performance -- you can be weak, or uber, depending on what loot you have
You can quickly swap between primary and secondary equipped ammunition with Space Bar (for example: damage and healing cannonballs)
The way experience gets awarded has been redone. You now get awarded for participation, not for defeating enemies (so dying to El Diablo is now great exp!)
New cannonballs that let you heal other ships
New talents that help heal (replaces Deflect which has been removed)
Variety of ammunition with different effects (against units, buildings, sails, etc)
Damage and health re-balancing across all units
Frigate now has a pair of cannons in front and two more in the rear, removing blind spots (and it turns faster)
Brand new UI
IRC chat and multiplayer lobby (stand-alone build required)
You can now respecialize your talents at any time to test out different builds
You can now keep an eye on the multiplayer games while playing in single player
You can chat with others playing Windward via built-in IRC (they don't have to be in your game)
You can chat with people playing Windward from any IRC client, making it easier to get some MP action going
There is now brand-new music
The build will be playable all weekend, so if you've been waiting to check it out and play some multiplayer to boot, now is the perfect time to give it a go.