After some months of delays, hiatus, and testing, v1.03 is going to be released very soon.
Let's meet the new dinosaurs to be introduced in v1.03. First, the giant sauropod-sized hadrosaurid Shantungosaurus, a close relative of Edmontosaurus, and so large that it just plain screws over the popular mainstream notion of large ornithopods being easy prey for theropods.
Then, the armored ankylosaur Saichania,
and the poorly known, admittedly dubious, tyrannosaur(oid) Chingkangkousaurus. Once thought to be similar to Allosaurus, more recent research supports a tyrannosauroid affinity.
They will be available in the exercise "Any Port In A Storm".
Then, some of the older park members change as well. Apatosaurus and Amphicoelias now get straighter and higher necks.
Carcharodontosaurus gets a whole new revamped model.
Edmontosaurus gets a longer tail, based on some currently-unpublished edmontosaur specimens mentioned by Matt Martyniuk and Tracy Ford, as well as portrayed in the upcoming game Saurian.
and Triceratops, along with Torosaurus, get new and more accurate skin textures (large hexagonal scales with nipple-like feature scales, as per Triceratops skin impressions) and keratin face shields (based on the bone texture of the face being similar to that of the horns).
And last, but not the least, the feature that took so long to get to decent functionality...fish! Yes, fish. They're still pretty much prototypes, but you can give your spinosaurids proper meals at last.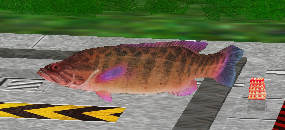 Also, you may notice some name changes in some species when playing v1.03. For example, Tenontosaurus. Turns out that the "Tenontosaurus tiletti" in the mod is actually the larger species Tenontosaurus dossi in all but name (it was much too big to be Tenontosaurus tiletti). Also, Corythosaurus is now Hypacrosaurus because, really, it seems that when you really look at it, they're too similar to split unless you're an extreme taxonomic splitter.
Thoughts? And enjoy :)