Multiplayer
So there's been a lot of requests/questions about multiplayer for the mod and whilst I personally don't really play the multiplayer of MoW, if people are so interested in it I decided that I'd have a go at implementing MP with this update.
Right now it's only a bare-bones version but it's a step forward in the right direction. All 3 factions will be available, but only with infantry for now. Also, a fair few of the infantry squads are the same as each other (just smg troops) since I don't have enough variety in terms of weapons and equipment to make all of the actual multiplayer unit types.
Infantry
Classes
Due to the addition of multiplayer, new classes were needed at least name wise even if they are statistically exactly the same as smg units for now. Therefore, all 3 factions now have breed menus under the "mp" folder in the gem editor with additional classes available to spawn. Some even have vanilla game equipment in order to fulfill their roles (such as metal detectors, binoculars and mines) these will likely be expanded as time goes on and more weapons + skins are added to better define units.
Helmets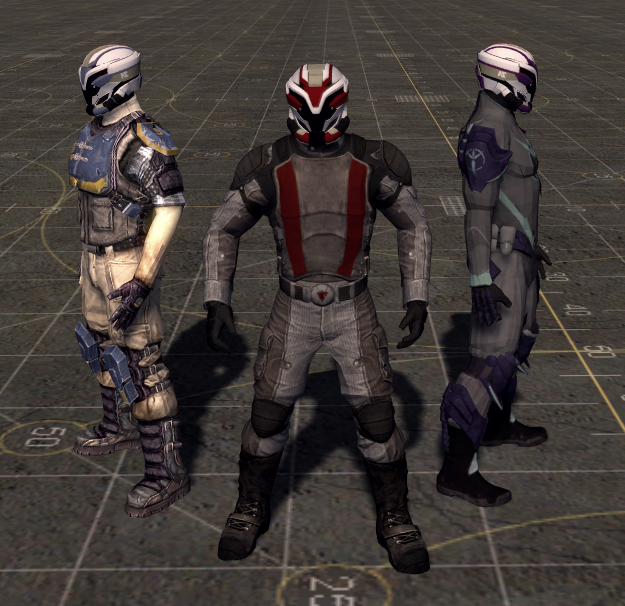 I'm also planning to add a few more helmets, just to spice up the new classes a bit more. I've not decided exactly which ones will be added to each faction yet but there will be a few for all 3. As you can see here, the only one I've finished so far is the NS Commander helmet for all 3 factions (still not sure on the colours yet though)
Weapons
All 3 factions will be receiving the "Rocklet Rifle" that the Light Assaults run around with in the actual Planetside 2. This will be used as the AT rifle units primary weapon.
There may also be one or two more weapons for each faction depending on how much time I have but I'll have to see how it goes.
---
Construction
Buildings
There will be a bunch more facility buildings added in this update, I'm trying to get as many of them done as can so that map creation can be improved for later updates. Like the most recent buildings from the last update, all the new ones will have a roof that can be set to disappear when troops enter the building.
Props
I'll also be adding a few terminal props like the spawn consoles and the capture point with hologram skins for all 3 factions.
---
ETA
I'm pushing to release this update before the 10th October so expect to see it sometime before then.
This is quite a messy article compared to my previous ones, I've not done this for a while so it's been a bit of an issue getting the layout and everything right.
Feel free to leave comments and suggestions on this article. Thanks.