What's going on?
Currently we are tackling the 28 Carrots Later game on two fronts, the artist and the programmatic sides. We felt that we should keep everyone up-to-date with what we are currently working on so the project doesn't look stagnant.
---
Technical Stuff
[Danny Goodayle]
I am currently working on getting a Grid based pathfinding system (Like the one used in the RTS demo for NeoAxis) into our game, this will allow for more elaborate maps to be created within the game as the AI will be aware of obstacles and overcome them to reach their goal (the player).
Currently it's working pretty well, however I'm just trying to optimise it so we can have hordes of creatures after the player at once without a major slowdown.
On the game-play front of things I'm adding in an objective system for the player (Pick x amounts of this object up to proceed) along with prep work for our new models that we've got coming in soon!
---
Artistic Stuff

[Jo Fripp]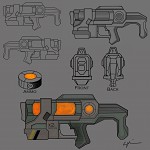 We have a new concept artist that we a pleased to welcome to our team, Shawn Norwood, who created this great concept for a laser based weapon we plan to include in the game.
Along with Shawn Norwood joining as a concept artist we have Mark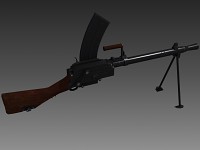 Kuykendall joining us as a 3D Artist and creating a great model of a weapon in a very short time. Together we hope to create some great concepts and artwork for 28.
Our plans at the moment are to focus on the creation of our creature concepts into 3D artwork and get them included in the game, create the weapons to use within the game and produce some concepts of levels to include within the game. So far we are very happy with the progress of development.
---
The state of things
[Danny Goodayle]
I hope this sum's up what we've achieved so far and lets you know the way we are going to progress. I will be updating everyone with what we will be adding in terms of game play along with features we plan on including. I can't wait to get the new models in and get some new map's developed for everyone to mess around with. Thanks for reading and have a great day!