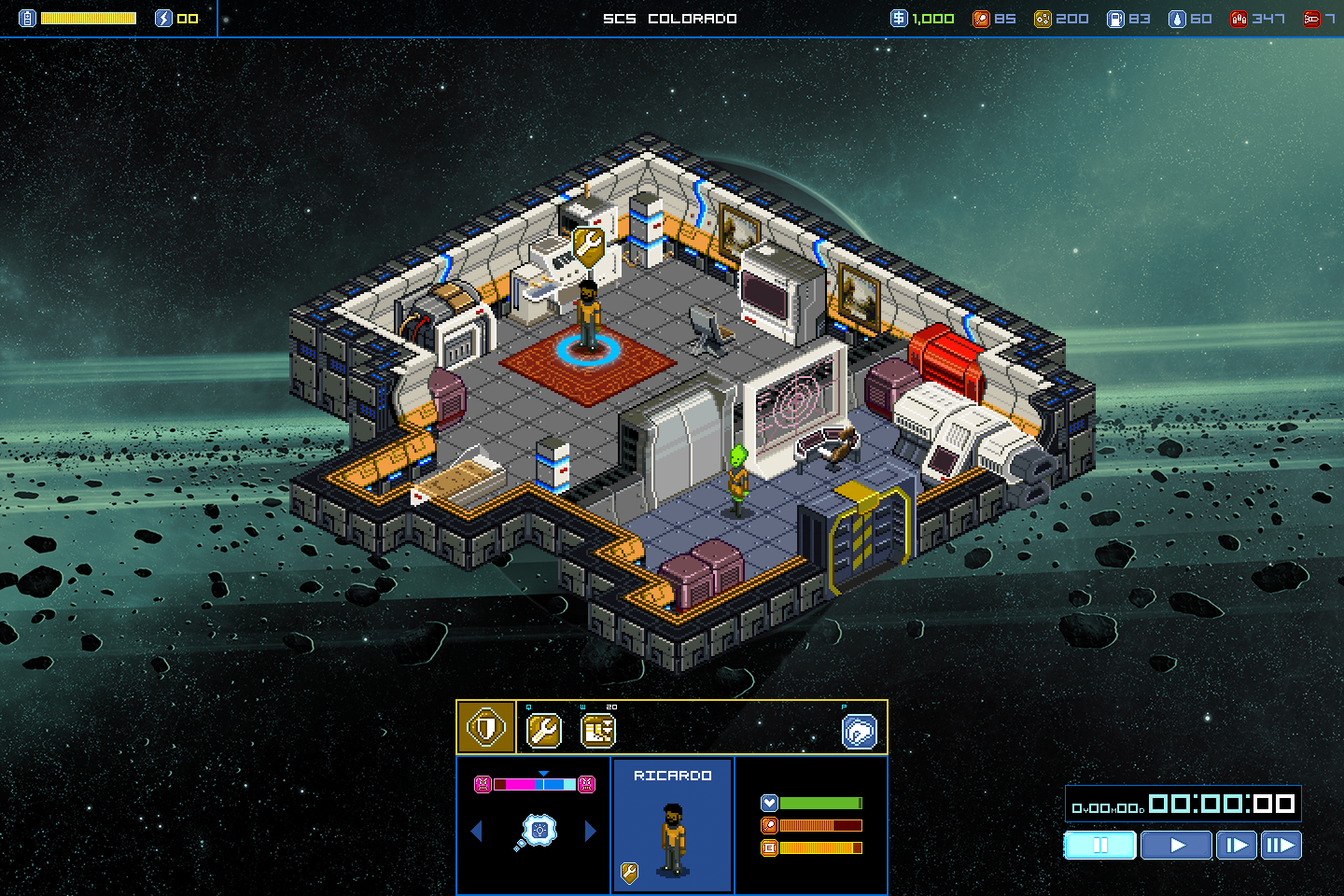 Hope you all have had a wonderful Holiday season and that you are ready for the New Year.
We have been back at work this week after a very successful Alpha 1 launch. We are very excited to have our kickstarters and fans playing the game and are looking forward to updating and improving the experience - which is exactly what we are talking about today. If you haven't gotten into the alpha you can right now at www.starcommandgalaxies.com!
The focus for our next update, which comes out in January, is crew interaction. Right now a lot of features in our game are pretty much done but not quite. For example:
Power is in but not connected to the GUI and some objects.
Food and Energy are draining but not really causing you harm
Using objects works but is very clunky
Teleporting exists but is finicky
Tooltips tell you a bit but not enough
It's not entirely clear what it is that you're supposed to do!
All of these items and more are on our list of things to do.
But the primary focus is on fixing and improving how you interact with your crew, how they give you feedback and how they interact with the world.
Desires, for example, should be a strong guiding force for what you are "supposed to do." If your crew member is hungry, tired, wants more light or wants to explore a planet this should be clear to you, the player.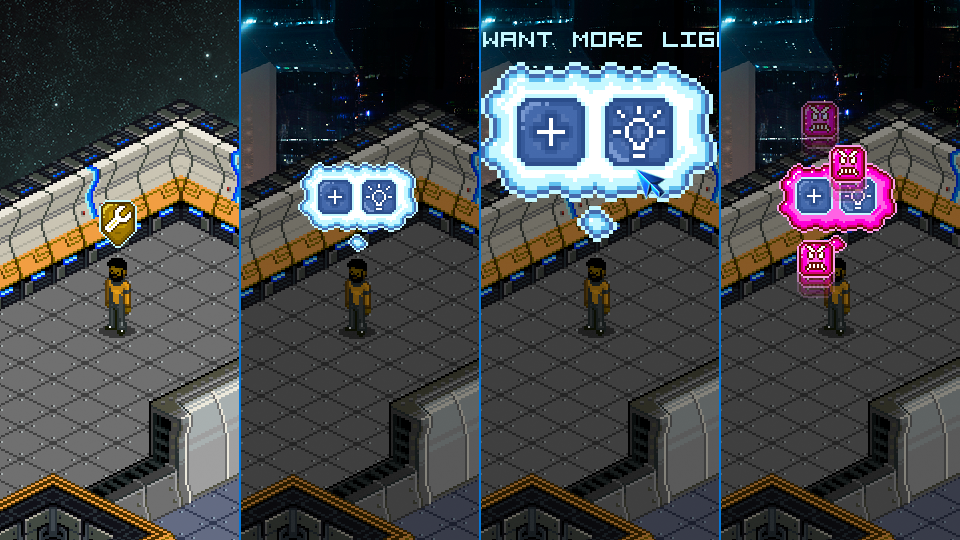 Our central gameplay cycle revolves around keeping your crew healthy and happy. One of the primary complaints in Star Command mobile was the fact that your crew and ship were always ready for battle. You got into a skirmish then proceeded to healed your crew, repair your ship and then head for the next battle.
In Galaxies the ship battles, visits to alien planets, diplomacy and trade all throw off the energy, hunger and desires of your crew. For example: visiting a Trilax ship will introduce new desires for your crew like Trilax art. Now, as Captain, it is up to you to decide who is ready to go on Away Team missions, who is the right person and what the consequences of that will be. You have to weigh that with who is tired, hungry, injured or afraid of alien worlds.
We are also constantly refining our interface. We really want Star Command Galaxies to be extremely deep and complex but very easy to pick up and understand: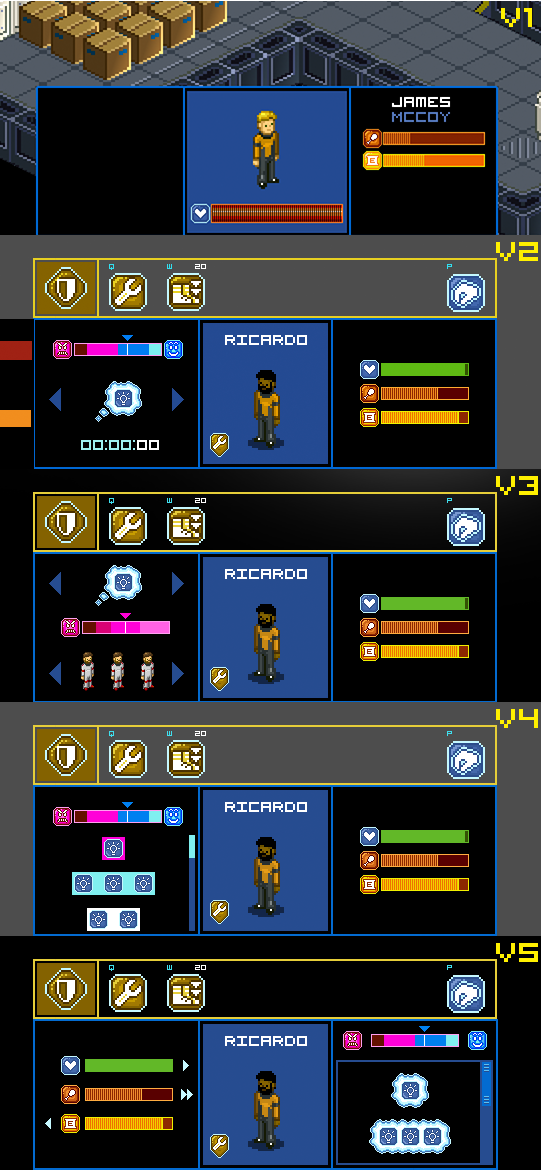 You can see our many iterations, refining and polishing the content that your Crew GUI reveals. We are always balancing what you NEED to know vs. what is too much info. It's a delicate balance. For instance, how many desires should you be aware of? The past 4? The past 10? And do you need to know the ones you have fulfilled or just the desires that are still remaining to be fulfilled.
This will continue to get updates in virtually every release.
Focusing on your crew's mood/stress level will be very important. We will be introducing those elements in the next update so that it's much more clear what you have to do with the hours of the day in your crew's lives.
We will also introduce comfort objects - things that help your crew relax and get into a good mood. Plants, paintings, TV's will help your crew get some R&R after a costly battle or exploring the harsh environment of a lava planet.
More to come as we get closer and closer to release of Alpha 2. Tell us what you think and if you have any questions!
Cheers,
Jordan@Warballoon