What Immersive Media Means for Indie Developers in 2018
by Nolan Clemmons
The growth of virtual, mixed, and augmented realities has opened new doors for game developers. Whereas the traditional channels of mobile, consoles, and desktop gaming have become saturated, these new game platforms provide an innovative format for experimenting with fresh game concepts.
Companies like Oculus, HTC, and Merge VR have initiatives in place to fund the development of new content on their platforms. This provides a mutual for both developers, who are able to mitigate risk with the funding, while the platform holders expand their offerings to consumers.
Rather than focusing too much on the AR vs. VR debate, developers should instead focus on the question of dedicated headsets vs. mobile hardware. There are fair concerns on both sides, from the price point of VR headsets to the performance limitations of mobile devices. One thing they have in common, however, is that they can each be built with cross-platform game engines like Unity.
Virtual Reality
In the early days of VR, before the consumer version of Oculus was released, the industry was skeptical as to whether there will be a sufficient hardware population of virtual reality headsets. Now that 2017 draws to an end, we're now beginning to see reassurance from the market. PlayStation VR has reached an impressive milestone of over 2,000,000 units sold in the end of 2017, and holds about half of the market share.
While there has been enough investment (close to $1B) to cover the cost on the initial content, the jury is still out on whether VR game development will be profitable. The top 10 VR games of 2017 averaged about $1.75 Million in revenue. While that may sound impressive, realize that's out of hundreds of titles - only 30 of which have generated more than $250K on Steam back in February. Virtual reality game development budgets can range anywhere from five to six figures. For Indies, this means they will need to find a way to fund development through outside means, such as crowdfunding, investment, or publishers, or self-fund development by leveraging their time.
While the amount of households with a VR headset has begun to grow, you should also consider the option of your game being played in VR arcade. Similar to how the first video arcades supplied those without a home console a place to play games in the 1980's and 1990's, members of the public can experience virtual reality without having to make a significant investment in equipment or hardware by visiting a VR arcade.
Mobile VR lacks the graphical performance of VR & Console VR, and usually requires special equipment (at least cardboard goggles). Google's Daydream and Samsung's Gear VR have special portals for promoting games to users that already have the respective equipment. There's also the question of control, as players usually have to rely on aiming with their heads, although there are a few controllers available.
Augmented Reality
Since the launch of Apple's ARKit & iOS 11 earlier this fall, as well the recent announcement of Magic Leap One, we've seen a huge influx of AR games from existing studios, as well as those that are newly-formed. Multiple Social Platforms, such as Facebook and Snapchat, have been focusing heavily on augmented reality as a way to enhance their user experience.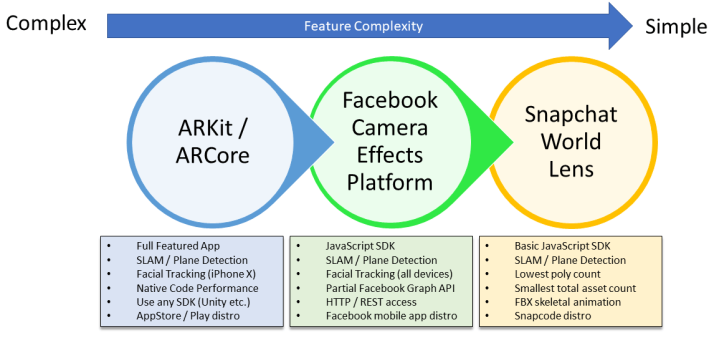 Mobile AR offers both the mass distribution capabilities offered by Google Play and the App Store and a the development options provided by ARKit, ARCore, and Vuforia technologies. This quite significant for Indies, as the low barrier to entry combined with the access to large user bases ease the uphill battle commonly seen with new game releases.
Augmented Reality headsets have quite a few uses on the horizon, for gaming, entertainment, and even business purposes. While some headsets may be plagued with a relatively high price points like their VR counterparts, this might not be a problem outside the consumer market. If a business has a problem or need for augmented reality solutions, then the cost of the hardware won't be as much of an issue as it would be for players. Enterprises uses of AR can range from fields including medicine, interior design, worker safety and training, construction, and perhaps military sectors. Developers could take their skills in creating interactive applications and apply them outside the game industry.
What This Means for Indie Developers
Deciding which platforms to make games for ultimately depends on your preferences as a creator, and what your audience wants. As I mentioned above, some platforms are funding content development, which could be your ticket into becoming an AR/VR studio. You should also think about what your core competencies are as a developer, and whether you should opt for the sophistication of dedicated headsets or the mass reach of mobile. Don't forget that there are equally as many business opportunities in developing enterprise AR/VR applications as there are for games & entertainment.
About the Author:
Nolan Clemmons is a game marketing consultant that helps clients increase sales and downloads using a variety of organic and paid tactics to spur continuous growth. His works have been published on Business 2 Community, Gamasutra, and Virtual Reality Pop. He has previously spoken at conferences like Dallas Startup Week, NoD Con, & Power-Up Digital Games Conference II, as well as presenting to local meetup groups including Dallas App Developers and Dallas Society of Play, a collective of independent game creators in the North Texas region, where is an active member.