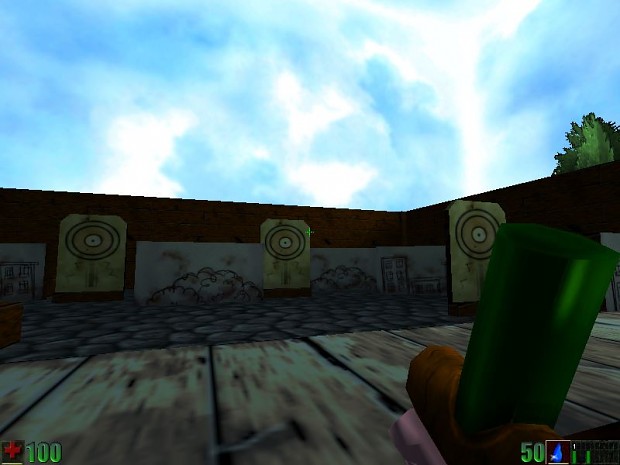 Here's some more polished scene from the demo, it's actually a bit hard to put such scene in Salvage Storm when other on the other important content but it's worth it. I'm giving myself masses of workloads to work on and I sometimes forget, thankfully I've put them in there. I strongly believe the demo I've put out there is in a good state to be presented but that's just the start.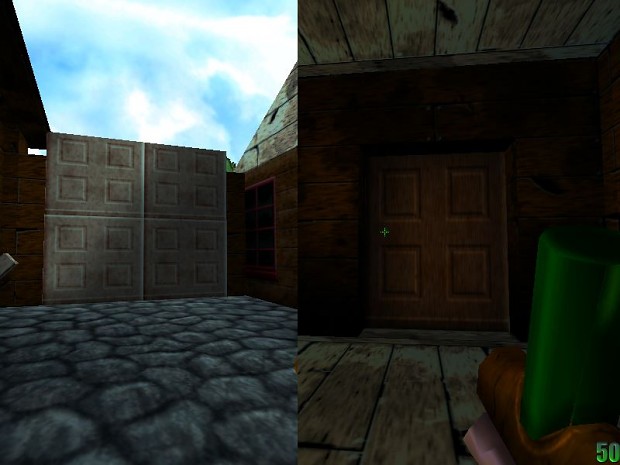 A custom nice door texture on here also to make them look like a door. I don't know how many of these I'll make but they add nicely to the detail in the world I've created for players to run around in. The download link again if anyone wants it:
I haven't got enough footage and material for the full release yet but it would make more sense if I made that content and put it out on here and I'm clear to do so. Everything I've got on here so far on this moddb.com seen is from the demo. So now I have to polish the other material and present it which is taking me a while and a longer then I expected but it is coming along. Maybe for the best because I can't imagine haggling for contracts now because it's the summer and everyone is enjoying the summer holiday, so I suppose that's getting somewhere.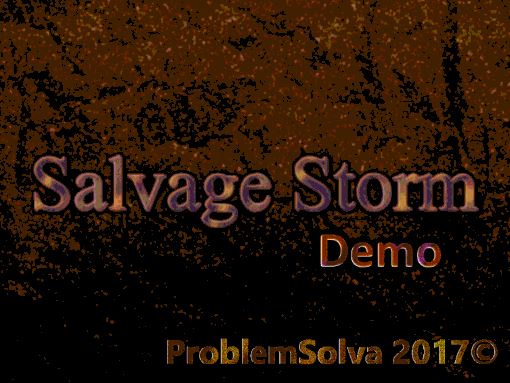 Regarding the release for Steam. I've had time to look and see what's important and to present it when I get onto the marketplace, so I have an idea what's going on there. One of the differences is that the Steam release would more likely be a clean install and would provide a much more cleaner installation. I've also figured that I've worked on the splash screen before booting the mod up. (pictured below). I've had to reduce the colors to rendered it in 8-bit (256 colors), I'm not sure why but the game crashes and fails to boot if I put the image in high quality color but even seeing the results in 256 colors, I get away with it and it doesn't look like crap. Maybe a finally way of making the mod feel more retro. The reason I haven't included this in the demo because I just figured it up but it must be configured in such a way that the user has to do that. That's what Steam can do easily for everyone to make it presentable but because I'm providing files in a zip folder, it makes me difficult for me to put out on there, so I'll have to make a tutorial to explain, which I will type soon.
The other reason I would want to address to why I really want my mod to have a price tag and the question on everyone's mind is what will I use the income if I managed to get a price tag for my mod? For anyone interested, I used to make some maps and levels for The Nameless Mod. For those that don't know, The Nameless Mod was huge when it was released for it's huge development time and scale for a mod for Deus Ex. The Nameless Mod for Deus Ex uses UnrealEd and the Unreal Engine 1 structure like the mod I've worked on. The skills and experiences I've gathered making maps in Salvage Storm I got from the times I were making maps for the The Nameless Mod. While The Nameless Mod is huge, I'm actually timid bringing it up because I have other dreams and project I would like to do but because my work and others hard work went into The Nameless Mod and I got my skills making it, it would make more sense if I used my experience from making and success (if I get it) from Salvage Storm and place it into The Nameless Mod. I would bring up, there are some things in The Nameless Mod that I do not like but... I'm not going to be hard on them. Some of the developers from The Nameless Mod worked so hard, maybe harder then what I've put into that mod and they can't do everything and sometimes. Making Salvage Storm supports the development of mods like The Nameless Mod and I hope I would use my experiences to help The Nameless Mod get somewhere... like the Steam marketplace, if Salvage Storm ever happens and gets somewhere in the next few months. (Don't say I hadn't planned on it, I get into trouble for not saying anything like that)
I never saw the success of The Nameless Mod and it did make me feel good but that wasn't me but I would think it should go better place but I'll have to see because it's a huge (and almost impossible) challenge to get it better and somewhere. There are other projects on here that I want to support but I'll have to see as my heart is still and always has been with The Nameless Mod ... but that's up for discussion and it is a bit of a dream but I had the same dream with Salvage Storm and I'm getting somewhere but how far would I get and will I ever get what I want from it. I was just going to take the money and run but considering that The Nameless Mod still sit here, I think it's worth while to get that somewhere if I'm trying to take Salvage Storm somewhere, that's a reason why I've made Salvage Storm to begin with. I also checked out Deus Ex: Revision (which got itself onto the Steam and GOG Marketplace) and I wonder how they get there, so I'm not going to ignore that either and put my thoughts into the situation with mods powered by the first Unreal Engine.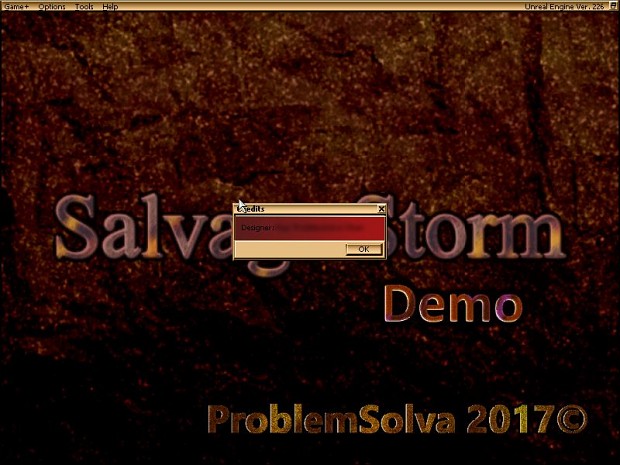 ... and for anyone who wants some idea with the connections I have with The Nameless Mod development team. You can see the credits screen in the Salvage Storm demo for my name and find it with the credits for The Nameless Mod. This is my proudest moment because I had to also dive into the Unreal code and actually mod the box and place the "OK" button in there, thankfully the designers of the code placed there in there and I'm not actually should if it's been used elsewhere, so it was left laying around the code not being used, so it's nice to use it for something. Usually the quit screen has that box but it has the 'yes' and 'no' buttons.
The Nameless Mod Credit Screen for find my name on there if anyone wants to look: Thenamelessmod.com