Link to Steam Greenlight, go vote on this page:
Steamcommunity.com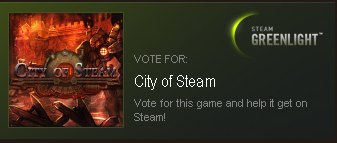 Fellow humans, draug, riven, greenskins and dwarves!
The Great World Machine is about to spin into a new era.

City of Steam is about to be powered by Steam… literally! We're excited to announce that City of Steam is going on Steam Greenlight!
But this is just the beginning; to become official on Steam, we need your help – the power of our greatest fans, to get this game greenlit!
Once City of Steam is on Steam:
1. We will have a large platform to build up our community, more friends to play with and more events with plenty of new stuff…
2. Fought countless battles but still looking for extra rewards? No sweat! Playing on Steam means there will be achievements; time to add some clockroach medals alongside your other Steam trophies.
3. You'll get new features for playing on Steam, which include:
• 7 extra Pets, with 2 inspired by Valve!
• 3 new Steambikes, with 1 Valve tribute model!
• 8 new dungeon types.
• Hats. ALL THE HATS! What we mean is… we're going to put in a lot more hats.
• Extra hardcore dungeon challenges, tuned to be worth the challenge orbs!
• Jetpacks – more of 'em!
• Extra character customization options.
So load up on coal and light that forge! People of Nexus, Steam is rolling in, and we need your voice to make it even louder.
It's easy to help! Share this news on Facebook, Twitter, Steam chat and any other social network you use. One simple click can help spread the word out to new players. Knowing how awesome you've all been in supporting us thus far, we know we can do this together (and we'll try not to sound this cheesy next time…)
Discuss this in the forum topic!
- City of Steam Dev Team