Note to everyone who didn't read the project description
Yes this is a L4D parody, hence the similarity, what's wrong with that. Were students just wanting to make portfolio work and we like Left4Dead so we created a project around that?
The Spitter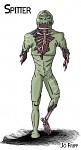 The spitters main attack is a vicious acid that it fires from its decomposed mouth, this is made possible by the bile in the stomach fermenting and creating a very strong acidic spray, using the gag reflex to "spit" the liquid onto it's victims. Once the victim is hit by this they will start to instantly disintegrate as their clothing and skin vaporises on contact.
Luckily for the victim, the spitter can only fire every so often as they would have to create new stores of acid to fire.
The spitter itself is relatively weak in terms of defence as a few well placed shots will bring it down, however this doesn't mean this isn't a force to be reckoned with as if they get close enough to shoot they will do some serious damage.
---
The Runner

Runners are the backbone of the zombie forces, their small frame and developed muscles make them perfect for sprinting towards the player and slowing them down with light attacks, Individually they are weak as 1 or 2 shots will take them down, however their primary tactic is to swarm the player and slow them down for other groups of zombies to finish off.
Their bodies have been mutated to a very small figure, their arms and legs are very thin but the muscles that hold them all together are incredibly powerful this allows them to propel themselves through the air towards the player without any signs of fatigue
---
The Brutus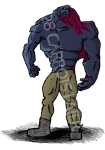 The perfect killing machine, its over-developed muscles are perfect for ripping things in two, however in the process of its mutation the muscles from the head and arm conjoined to form a super muscle between the head, neck and arm. It's skin has taken on a sort of kevlar like structure, with the cells themselves forming small armour plates which overlap each other. This helps when stuck by a fast moving object as the entire body absorbs the shock and speed of the impact instead of a small area, this in turn allows the Brutus to take several shots from near on any weapon before taking any noticeable damage. Should it eventually corner it's victim, they won't last long as the Brutus will rip them limb from limb.
The only downside to its over-developed muscles is the impact that it has on movement, as the legs can barely function as legs they act more like stilts, which significantly reduces the move speed of the Brutus, allowing its victims to quickly duck past them and shoot them from a distance.
---
All artwork can be accredited to Jo Fripp, descriptions by Danny Goodayle (dan@rampantstudios.co.uk)