WEEK ELEVEN - January 22nd, 2015
----------------------------------------------
Hey guys, don't have much time for this update, I've got loads of stuff to do this weekend so I'll keep it quick. First off, a screenshot, because why the heck not?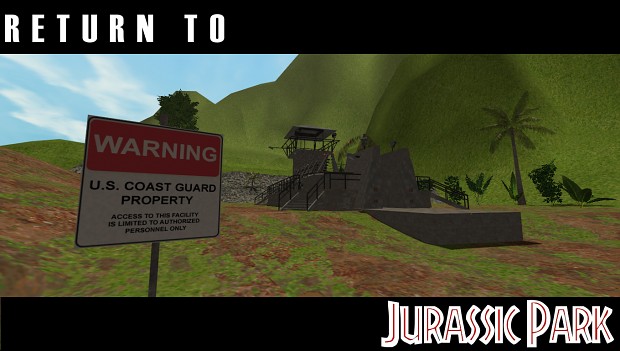 Yay, Raptor Pit! This area is one of my favorites to work on because there is so much to do with the area thanks to all of the different angles we have on the area and mountain range behind it. The entire area is based on the actual location in Kauai, and the mountain ranges surrounding the pit are made to be as close to the movie as I can make them while still retaining the form of the island. This time, the Raptor Pit is at the south-westernmost end of Nublar Mountain's range on a hilltop that overlooks the entire Visitor Compound - the view is quite something from the tower! It's a bit of a pain to get the geography right in this area, especially since the Emergency Bunker and Main Utility Shed are close by, so the surroundings are subject to change.
For fans of Jurassic Park Oblivion, you might notice that I imported hppav's government restriction signs, which I thought looked awesome (though the palettes I used weren't perfect, they got the job done). These will be posted in various locations around the island, mostly in the Visitor Area and other major facilities. The U.S. government came to the island following the events of Jurassic Park to quarantine it and restrict it from the public. In the year that RTJP takes place, 1998, the island is restricted and guarded by the U.S. Coast Guard, though of course some trespassers have managed to get onto the island one way or another. InGen had also sent a cleanup team to the island led by Henry Wu in 1994, though they were largely unsuccessful at retrieving anything of value following Hurricane Clarissa; some traces of their operation will be visible throughout the island as well. I'll also be including traces of Billy Yoder's mercenaries from The Game here and there.
On a side note, I'll be getting a new computer soon since my current rig isn't very powerful. It is designed with gaming and 3D development in mind, so the graphics card and processor are maxed out. This of course means work will temporarily slow once again on RTJP, but not for long. I've got some ideas in mind for the main compound, and there's still plenty of terrain work to do (the jungle river is a huge pain in the ass...that one's gonna be a doozy!).
So I must conclude my short update - hopefully this one gave a bit more insight into some more of Isla Nublar's history and details following the events of Jurassic Park. Next week I should have even more world design to show off...well, provided I don't get distracted by finally being able to play all of my current-gen games with maximum quality settings. Now I can go and finish friggen Alien: Isolation, finally!
Legendary Glitch of the Week:
I think the glitch this week could be that I didn't have a glitch this week...that in itself is weird.