Howdy, gamers!
This week I'd like to introduce the crafting system in Survisland
There are several methods for you to process resources on the islands.
1.Break: you can simply use tools to smash items in surrounding to break large items into small ones. This is one of the most important systems in Survisland, players need to craft different items by using materials in different sizes.

There are many downgrades you can do in Survisland, and you'll find out that some of the productions are useful while some are not.
2.Process: Compared with Breaking, Processing is to use complicated techniques to turn materials into delicate items. You can use Breaking method to turn big stone into small ones, however you need to use grinding technique to turn it into an axe-head. Almost every item that you can pick up provides certain techniques.
Here is the Technique Indicator we added last week: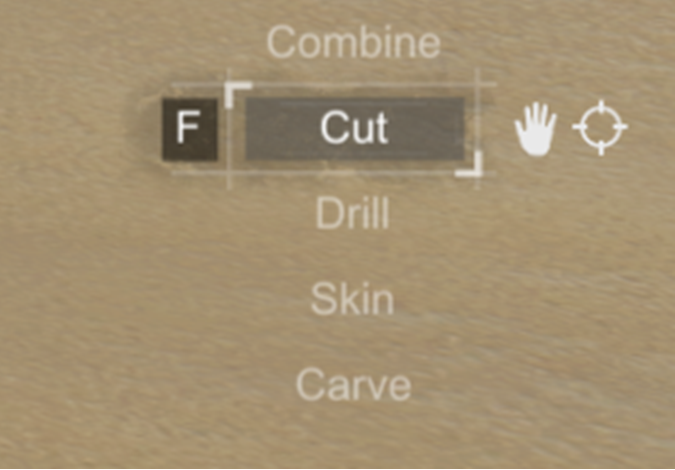 Technique Indicator shows you the techniques you can use currently, they come with the right-hand item or the item you are facing. For example, Grinding is a tech that can be used on big stones, you need to grab a tool in hand while facing the stone, and then hold the craft key to process it. (It's shown in our trailer)
There are more info provided in this indicator. Hand/crosshair icon tells you where the tech that you currently selected can be used, such as in your left hand or on the crosshair. Some techs can only be used to process items where your crosshair is aiming, some can only be used when the material is in your left hand, and some techs can be used to craft in both positions.
This is the basic crafting system we have built for now, we'll add more tools with more techniques in future, in order to allow players to craft more useful items!
3.Combine: As you can see in the Technique Indicator, Combine is also listed in the there.
Putting things together is not exactly a technique, as it is simple and doesn't require any tool. As long as you own the materials required, and no matter which one is in your right hand or left hand, you can use the Combine method to put them together.
This system is not completed yet. Break and Process can not be achieve, but we plan to extend it, make a separated UI for it, modularize the logic in order to let player combine whatever they like together for real.
Alright, this is all we have for this week, we are still working hard on improving building system, also the details of each biome which we mentioned last week. We'll show you the progress when we finished.
Please follow us on social media to share your thought with us:
Super Trampers