NEWS
This weeks update is graced over the details of the mod, and the basis. Not to mention what you can expect in the release of the mod and much much more! Deathmatch: Ultimate is being worked on by two people. Myself, the previous Project Lead of Lost World: Source and Vimelin the previous mapper of Lost World: Source. We are taking our experience in that project and putting into our own project. In Deathmatch: Ultimate we will be adding all the content we wanted to see in Deathmatch. For example, weapon re-skins, gore, comedy themed items and more.
We are also removing every single HL2:DM map, and making sure that every map in our mod is original. Yay!
You can expect the release of DM:U within the next couple of months. It won't take us years to reskin all the weapons, add custom textures and make an entire pack of original maps. We will still be using textures from HL2DM, so don't expect completely unique and original textures.
However, these things are currently being thought of. A list of what will or maybe be graced into the mod. Don't forget some items may be removed if we find they don't work out too well.
- Throw able Cars (Completed)
- Dual Pistols (Working On It)
- Over The Shoulder View (A possibility, not 100% sure)
- Black & White Gravity Gun (Completed)
- Exploding Heads upon Headshot (A possibility)
- Green Explosions (Completed)
FEATURES
These are somethings that are currently implemented into the mod. So, feast your eyes on something special and exciting..well exciting.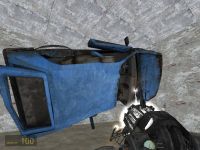 Yes, the Black & White Gravity Gun can carry cars. How sweet is that? Don't want to get by one of these now do you?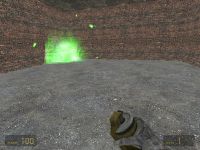 Blow up your friends in green explosions! Whether it be any day of the year, or a fun filled day on St.Patrick's Day, these grenades will sure pack a bang for you.
--
Next week you can expect some map pictures, more re-skins some GAMEPLAY action and more. Isn't this exciting!
~Manio - (Justin Ross)
Project Lead of Deathmatch: Ultimate