Hey Guys,
Get ready… this week is a CRAZY one.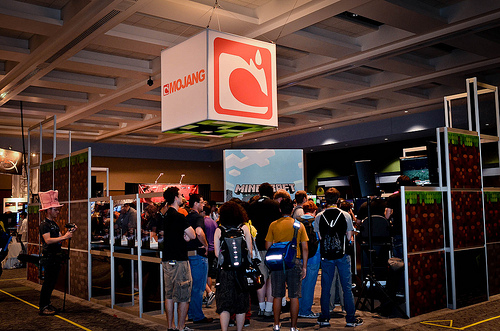 PAX Fan Art Contest
We need some amazing pieces of artwork for a special PAX Project.
Here's the specifics:
It can be about Minecraft, Scrolls, Cobalt, or the Mojang Team.
Be original. We are looking for amazing things!
Must be 8×10″ 300dpi (vertical or horizontal will be accepted)
Submit to HejMojang.
Artwork will be used in something epic for PAX. Each winner will get a picture of a Mojangsta holding their artwork emailed to them! They will also all be featured on the blog after PAX.
You have until Tuesday, August 28th @ 1pm PST.
We are NOT looking for IN GAME artwork.
*We will be choosing a few submissions from each category! By submitting your artwork you are giving us permission to show it online and at PAX.
Speaking of PAX
Our booth is on the 6th floor, spot 6201. I AM SO EXCITED ABOUT OUR BOOTH. If you are at PAX, you cannot miss it. Here's the map so you don't get lost!
We will be having a pane at PAX! After Notch: The New Minecraft Team will be on Saturday at 4:30pm in the Kraken theatre – more information here. For those of you who can't make it Twitch.tv will be livestreaming our session!
PAX Volunteers
We're looking for some helpful volunteers to work with us at our booth at PAX Prime in Seattle, August 31st to September 2nd. You must already have a PAX badge, and be over 18 years old.
If you're interested, please click here and give us some information about yourself. See you at PAX!
*Volunteers will get specialness… just saying.
So you want to know about Minecon…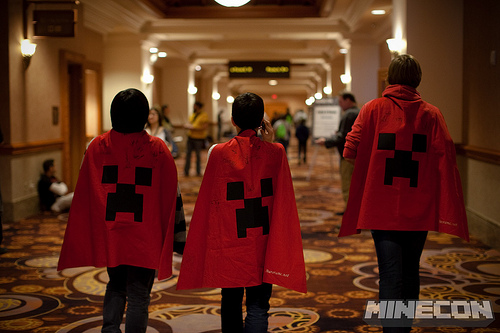 The official Minecon site is now online! Registration won't start until next week, but this will give you all the information you've been waiting for and the EXACT time registration starts!
Follow @MojangTeam on twitter for all the latest information!
Minecraft Snapshot 12w34b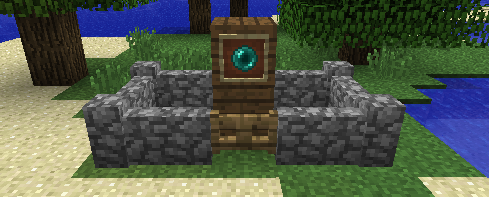 The recent two weeks Dinnerbone and I (jeb_) have worked a lot on new features, both our own and suggestions from the community. Before you ask, the API that will allow you to do your own features is waiting for a large restructuring of the render engine to be completed. I'll write more about this in a future blog post.
So while you wait for that, here are the changes in this week's snapshot:
Added item frames
Added cobblestone walls (yes, mossy too)
Maps now align to a grid, making it easier to create adjacent maps. Maps can also be cloned
Stairs now auto-arrange into corners. This is a test and may change based on feedback
Mobs can travel through portals
Leather clothes can be dyed
Removed the "wip block" from the creative menu
Added two new crops and associated items
F3+P will toggle the auto-pause when the window loses focus (it's for debugging, mainly)
F3+H will toggle detailed item descriptions (also for debugging)
Added arrow-sensitive wooden buttons
Trapdoors can be placed in top-most position (based on cross-hair aim)
Fixed item frame crashes
Fixed nether portal stuff
Changed recipes for buttons
Minor armor gfx changes
Tweaked the "hidden feature" (still not ready for release)
Download the snapshot here:
// The Minecraft Team
Most of the team will be out next week, so there won't be a snapshot or Weekly Chunk.
See some of you very soon!
- Lydia