It has been a fairly busy month for Private Infiltrator as we have delivered some of the biggest updates to date. Quite a lot of things have been polished, fixed or had their functionalities extended. Here is what made this update so special:
A renewed old-new map returns to the game, The Sanitarium! Lost in the top secret files of messy source folders, and built anew with

plenty of easter eggs

and a difficulty boost. Absolutely nothing pecurious at all! Go check it out and get yourself hospitalized there if you manage to beat it.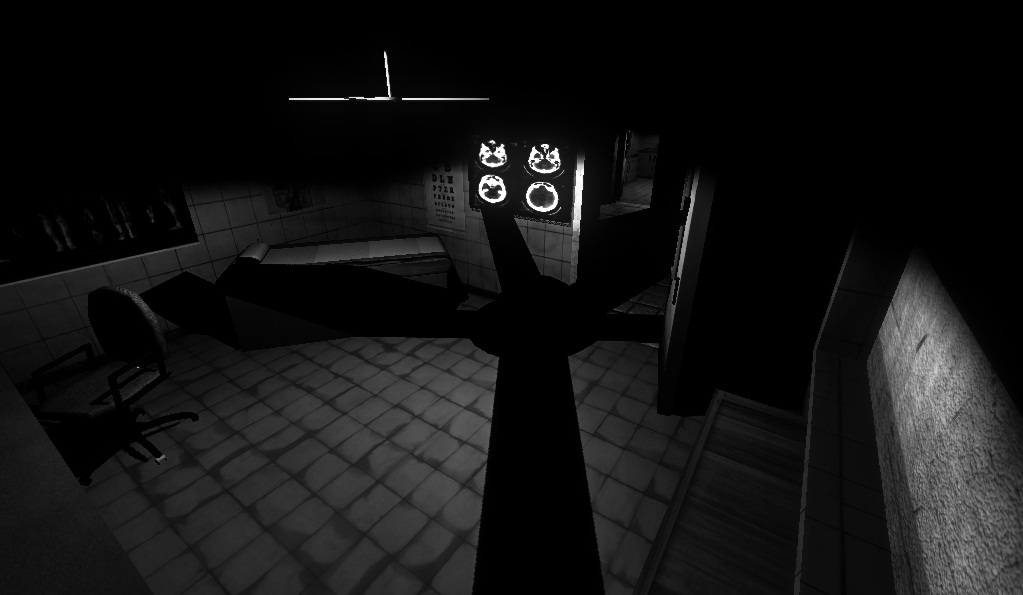 New players have mentioned that being obliterated in the first level of the game is far too sudden! Therefore we've introduced an introduction with the introductory level, with precisely one enemy! Get past the searchlight and delay your inevitable doom by approximately 30 seconds! Oh, did we mention that you get to parachute down into the introduction? 35 seconds! That is plenty of time for you to figure out how the mechanics work before actually heading into battle!
When you're done embarassing yourself in the Singleplayer campaign, you could best your friends in a not so friendly game of Multiplayer! Assests have been spitshined and bugs have been placed inside crates at the bottom of the ocean, so you can go capture some WEC boxes for your enjoyment!
A new difficulty customizer was introduced that allows you to easily customize certain aspects of the game's enemies and mechanics. The settings affect the points you will receive at the end of each level. But don't go around thinking you'll lose all your points by playing at an easier setting! A new scoring system has been introduced to reward players more plentifully, and with your own completion rank! 40 points x the difficulty multiplier, plus an unscaled tip from the WEC director himself if you perform well enough!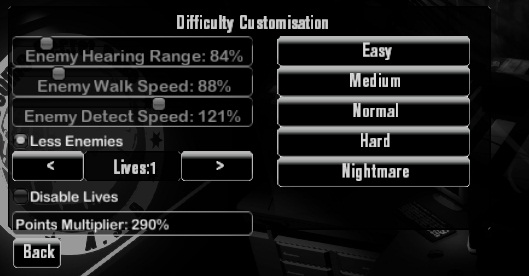 In addition to all of these adjustments to the current game, a new mode is in development and properly working now! Binding of Infiltrator, the endlessly self-generating map to explore and infiltrate! Short on friends for Multiplayer but going insane with Singleplayer? Go fight against the very base itself!
Aside from all of these changes there are the boring stuff to note out: New elevator musics! Stand still at the beginning of every map (Whether it is due to uncontrolable fear or loss of all hope) and hear brand new tracks that replace some of the the older and more horrible ones! These ones are actually good! Probably. Hopefully. A great deal of effort went to optimisation; the primary goal was to replace the shadows that were cast by the relatively more complex models by shadows that are cast by simpler cubes. The CPU load has also been decreased massively, resulting in a big FPS boost.
We have saved the most important addition for last. We have implemented a lovely system that can only help our users have a more stable experience. Always-On DRM

simulator

! Now with 100% more queues, and the inability to control your savegames. Offline mode is a thing of the past, go online now! The implementation is experimental, so it's only available in our new Triple-A map pack with tons of weapons, action and adrenaline-pumping moments! Don't forget to preorder our Day 1 season patch that gives you access to three new bug fixes! Only for 15$ per day!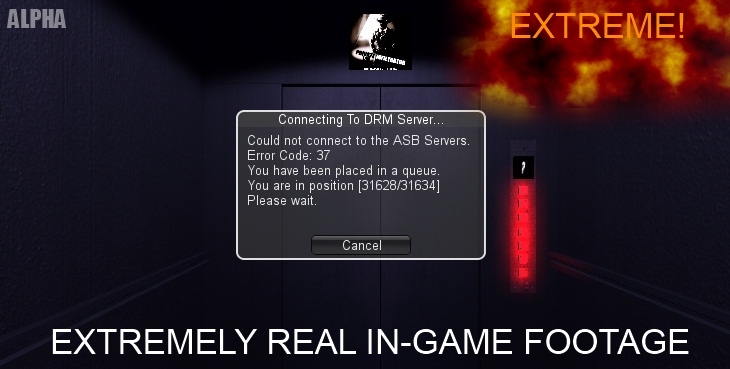 ---
All ridiculous things aside, it has been a busy month that brought Private Infiltrator closer to being finished. Only a few (yet incredibly persistent) issues remain until we are finally able to call Private Infiltrator a complete game. (Animations, i am looking at you)
To-Do List:
Create more music. (2 Jazz and 3 Vintage Espionage tracks left)
Finish-up the animations.
Optimise the character models.
Further polish the game and fix bug-related issues.
Add more bugs
Announce more free content.
Implement more DRM, because DRM can establish a better user experience, fanbase and can fight the incredibly evil pirates that are certainly not pirating the game due to horrible design/marketing decisions and pricing.
---
Don't forget to report any ASB activities to your nearest WEC facilities.
Until next time, the WEC Director wishes you happy box-hunting.