---
Weather and Graphical Infrastructure 2.0
Ever since the release of L.U.R.K. 0.9, there has been praise, and complaint of the graphics, and some complaints weren't without reason. Complains such as overly dark ambient light (shadows), convoluted and hard to see distant landscape, sun positioning errors, purple fog bug, inconsistent graphical quality, poor morning weather, and various other concerns have been addressed.
That's not to imply by any means, that Weather 2.0 is a mere culmination of fixes. We're presenting for the first time, our second overhauled infrastructure for both the lighting renderer, and the weather system.

The Major Changes are as follows, bullet-ed for convenience:
Shadows and ambient light sources are calculated based on sky color, rather then sun color.
Overhauled fog renderer for cloudy weather, less sunny contrast.
Shadow Jitter, tapers the sharpness of shadow calculated by surface distance.
Morning and Evening Transition is much more fluid.
Post Processing Filters for Sun Color.
Sun plays a more active role in lighting.
Ambient Lighting is much less overcontrasted.
Mipmaps fade to enhance the visibility of distant geometries.
Color maps are more consistent, elegant, and fluid.
Grass sprites are blended.
Optimization from 300mb memory usage, down to 100mb
Tons of attention to detail

---
Without any further ado, the weather system 2.0, in tandem with our overhauled lighting engine. Please provide feedback and response with your opinions and thoughts.
---

Please note that even the previous update regarding weather hasn't contained our new, overhauled system, and only served as a summary layout for new users. Containing images of a modified variant of our previous build.
To put things into perspective, here's an old image from 1.0552:
---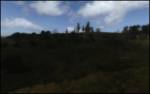 You'll notice that the normal maps are convoluted, the shadow contrast is nearly pitch black, the normals have too much strength from a distance, and many other issues are prevalent in the existing public build that aren't show in this image. As opposed to..
The new L.U.R.K. 1.1: Weather 2.0 Build:
---